Savor the Season with Hearty Holiday Dishes
Sausage Cornbread Stuffing
Sausage Crostini
(Family Features) When collecting recipes for holiday gatherings, forget about dishes that require hours spent in the kitchen and focus on quick, flavorful options that feature an all-time favorite ingredient – sausage.
Not just for mornings
Add the same savory flavors you love in those beloved breakfast casseroles and sandwiches to your holiday menu for delicious results. Are you in need of an easy appetizer to serve guests before the big meal? This Sausage Crostini recipe combines fully cooked Jimmy Dean Hearty Sausage Crumbles with melted mozzarella cheese, peppers and onions atop crunchy, toasted French bread for a quick, hassle-free appetizer that'll have everyone coming back for more.
When it comes to deciding on dishes for the main event, stuffing is an all-time classic and a must-have on any holiday menu. Add a unique twist to a simple holiday classic dish with this Sausage Cornbread Stuffing made with savory Jimmy Dean Sage Pork Sausage, cornbread and pecans. This flavorful stuffing is guaranteed to become a new family favorite.
For other delicious recipe ideas, visit www.jimmydean.com.
Sausage Cornbread Stuffing
Ingredients
1 package Jimmy Dean Premium Pork Sage Roll Sausage
2 cups chopped celery
1 cup finely chopped onion
4 cups coarsely crumbled cornbread, toasted
1/4 cup chopped fresh parsley
1 teaspoon poultry seasoning
1 cup chicken broth
1 egg, lightly beaten
1/2 cup chopped pecans (optional)
Preparation
Preheat oven to 325°F. Cook sausage, celery and onion in large skillet over medium-high heat 8-10 minutes or until sausage is thoroughly cooked, stirring frequently; drain. Spoon into large bowl.
Add cornbread, parsley and seasoning; mix lightly. Add broth and egg; mix just until blended. Stir in pecans, if desired.
Spoon into lightly greased 2-quart casserole or soufflé dish; cover.
Bake 45 minutes or until thoroughly heated, uncovering after 35 minutes.
Serves
Yield: 8 servings
Notes, Tips & Suggestions
Cook's Tips:
For the 4 cups crumbled cornbread needed to prepare recipe, bake 1 package (8.5 ounces) corn muffin mix according to package directions for pan of cornbread. Cool, then coarsely crumble. To toast crumbled cornbread, preheat oven to 400°F. Spread cornbread onto bottom of large shallow baking pan. Bake 10 minutes or until lightly browned, stirring after 5 minutes.
Preparation Time:
20 minutes
Cook Time:
45 minutes
Sausage Crostini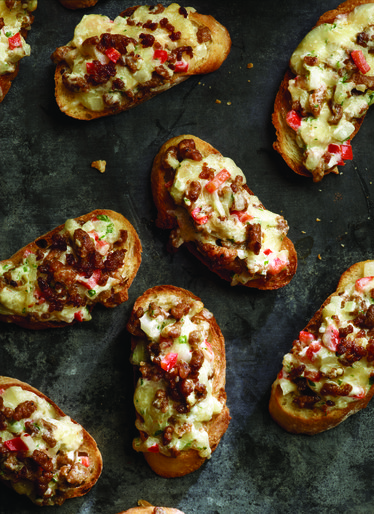 Ingredients
2 loaves French bread (8 ounces each), each cut into 15 slices
1/4 cup olive oil
1 package (8 ounces) cream cheese, softened
1 package Jimmy Dean® Hearty Original Sausage Crumbles
1 1/2 cups (6 ounces) shredded mozzarella cheese
2/3 cup finely chopped red bell pepper
1 onion, finely chopped
1/3 cup finely chopped fresh basil
1 1/2 teaspoons finely chopped rosemary (optional)
1/4 teaspoon cayenne pepper (optional)
Preparation
Preheat oven to 375°F. Brush both sides of bread slices with oil; place in single layer on baking sheets. Bake 6-8 minutes or until both sides of each bread slice are lightly toasted, turning after 4 minutes.
Meanwhile, combine cream cheese, sausage crumbles, mozzarella cheese, red pepper, onion and basil in large bowl. Stir in rosemary and cayenne pepper, if desired.
Top bread slices with sausage mixture.
Bake 7-10 minutes or until topping is thoroughly heated. Serve warm.
Serves
Yield: 30 servings
Preparation Time:
25 minutes
Cook Time:
10 minutes
SOURCE:
Jimmy Dean