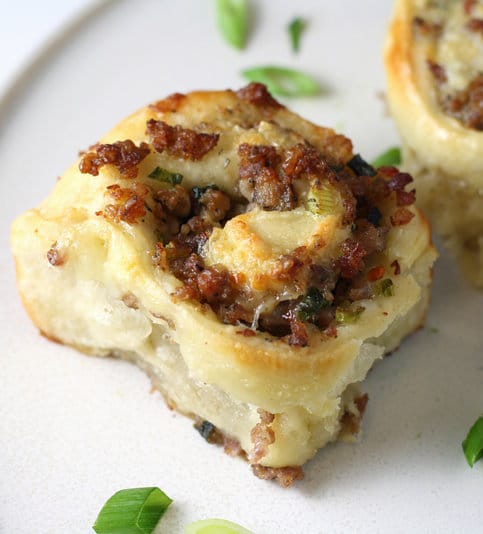 Sausage Cheddar and Rosemary Buns
Ingredients
1 tablespoon olive oil (for brushing the pan)
8 ounces breakfast sausage
1/2 cup sliced green onions
1 teaspoon finely chopped fresh rosemary
1 pound pizza dough
1 egg, beaten
1/2 cup grated cheddar cheese
Instructions
Brush the inside of an 8×8 baking dish with olive oil and set aside.
Add the sausage to a large skillet and turn the heat to medium high. Cook for about 5 minutes or until the sausage has browned and is cooked through. Add the green onions and cook for 1 minute. Add the rosemary and remove from the heat.
On a floured surface, roll the dough out to an 10×8 inch rectangle. Brush the edges of the dough with the beaten egg. Spread the sausage over the dough in an even layer. Top the sausage with an even layer of cheese. Roll the dough lengthwise to create a cylinder, tucking in the ends. Cut the roll into 9 equal pieces and place in the baking dish, cut side up. Cover the dish with a towel and let rise for 30 minutes.
Arrange the oven rack in the middle of the oven and preheat to 375 degrees.
Brush the tops of the buns with the remaining beaten egg. Bake for 25-30 minutes or until the tops have browned. Let the buns cool for 5 minutes before serving.
https://stlcooks.com/sausage-cheddar-and-rosemary-buns/
Recipe and Photo: Dishing Up Delights / CC BY-NC-ND