Jump to recipe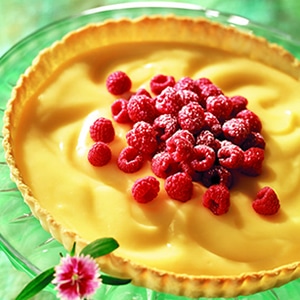 Ingredients
1/2 (15-ounce) package folded, refrigerated, unbaked pie crust (1 crust), at room temperature
1/2 cup granulated sugar
1/4 cup cornstarch
1 1/4 cups water
2 eggs, lightly beaten
2 tablespoons margarine or butter
1/2 cup Lemon Juice
2 cups fresh raspberries or sliced strawberries
Sifted powdered sugar
Instructions
Preheat oven to 450°F. Roll pie crust on floured surface to 11 1/2-inch circle. Ease into 10-inch tart pan with removable bottom. Trim even with edge; prick well with fork.
Line with double thickness of foil. Bake 8 minutes. Remove foil. Bake 4 to 5 minutes longer or until golden. Cool.
Combine granulated sugar and cornstarch in medium-sized heavy saucepan. Stir in water. Cook and stir over medium-high heat until thickened and bubbly. Cook and stir 2 minutes longer. Remove from heat.
Gradually stir about half of the hot mixture into eggs; return egg mixture to saucepan. Cook and stir until almost boiling. Reduce heat; cook and stir 2 minutes longer. Remove from heat.
Stir in margarine or butter; gently stir in lemon juice. Spread in prepared tart shell. Chill 4 to 24 hours.
Before serving, remove circular pan "side." Place berries in center of tart and sprinkle with powdered sugar. Garnish with edible flowers if desired. Store leftovers covered in refrigerator.
Recipe and Photo Courtesy of ReaLemon