Jump to recipe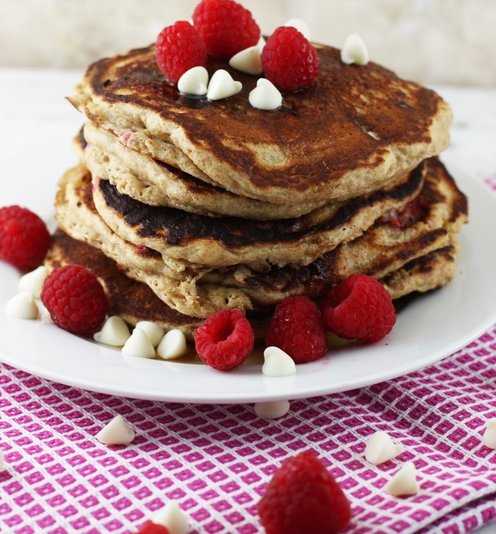 Raspberry and White Chocolate Whole-Wheat Pancakes

Ingredients
1 ½ cups whole-wheat pastry flour
½ cup wheat germ
2 tablespoons baking powder
½ teaspoon sea salt
2 large eggs
1 ½ cup fat-free milk
2 tablespoons canola oil, plus more for the griddle
2 tablespoons honey
1–teaspoon pure vanilla extract
1–cup raspberries
½ cup white chocolate chips
Instructions
In a large bowl, combine the flour, wheat germ, baking powder, and salt.
In a medium bowl, beat the eggs. Beat in the milk, oil, honey, and vanilla. Mix gently into the flour mixture, and then fold in the raspberries and white chocolate chips.
Preheat a griddle and brush lightly with oil
Ladle the batter by ¼ cups onto the griddle and cook on both sides until golden brown. Repeat with the remaining batter.
Image and recipe reprinted with permission from www.skinnyluscious.com and www.healthyaperture.com