Jump to recipe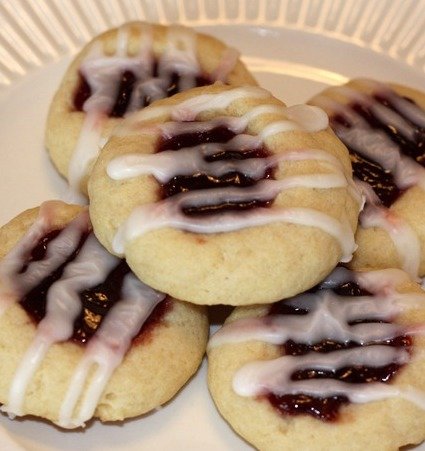 Ingredients
For the Cookies:
2 sticks butter, softened
2/3 cup sugar
1/2 teaspoon almond extract
2 cups flour
2/3 cup raspberry jam (make sure you use jam)
For the Frosting:
1 cup powdered sugar
1 1/2 teaspoon almond extract
2 to 3 tablespoons milk
Instructions
To Make Cookies:
Preheat oven to 350 degrees.
Cream butter, sugar, and flour. Add 1 teaspoon almond extract. Chill for 1 hour.
Shape dough into 1 inch balls and place 2 inches apart on greased cookie sheet.
Make indention in each cookie with thumb. Fill with 1 teaspoon jam. Bake for 14 to 18 minutes. Cool 1 minute, then remove to wire rack.
To Make Frosting:
Combine powdered sugar, almond extract, and 2 to 3 tablespoons of liquid until desired consistency is met. Drizzle over cooled cookies.
Recipe and Photo: Whole Lotta Oven / CC BY