Jump to recipe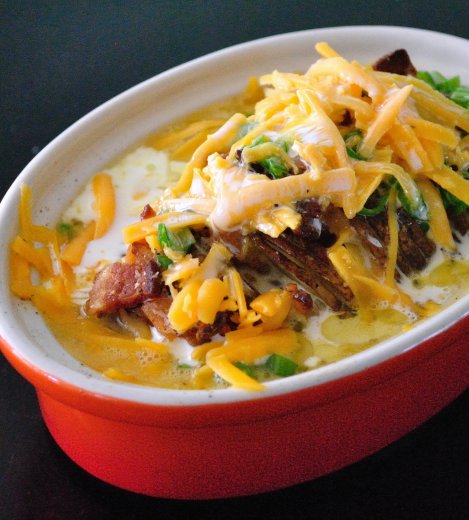 Hasselback Breakfast Bowls

Ingredients
2 small russet potatoes
3 slices bacon, sliced into 1? pieces
4 eggs
2 oz cheddar cheese, shredded
2 tbsp scallions, chopped
2 tbsp heavy cream
Splash of Worcestershire sauce
olive oil
kosher salt and fresh cracked pepper
Instructions
Preheat the oven to 400°.
Prep the potatoes: place 2 chopsticks or skewers on either side of one of the potatoes and slice thinly with a sharp knife, making sure not to slice all the way through. It should look kind of like a potato slinky when finished. Repeat with the other potato.
Place each sliced potato into an individual sized ramekin or casserole dish, and stuff the bacon randomly between the slices. Drizzle just a little olive oil over the top of each potato, and sprinkle generously with salt and pepper. Bake the potatoes until the bacon has crisped and the potatoes are tender throughout, about 50 -60 minutes.
Carefully drain most of the grease from each dish. Divide the green onions between each potato, sprinkling them over the top. In a small bowl, combine the eggs with a splash of Worcestershire and a pinch of salt and pepper. Beat the eggs briefly to combine, and divide equally between each individual dish. Top with equal parts of the shredded cheese, and 1 tbsp each of the heavy cream.
Return the dishes to the oven and bake until the eggs are puffed and the cheese is melted, 5 to 7 minutes.
Serve immediately.
Recipe and Photo: Feeding Darragh / CC BY-SA