Jump to recipe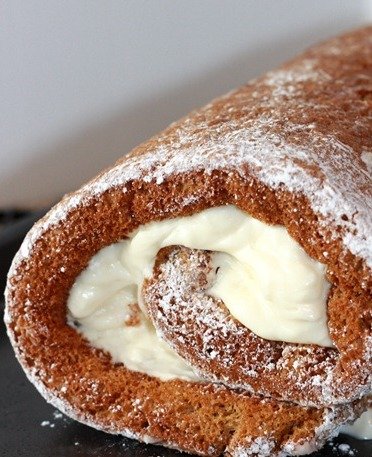 Pumpkin Roll

Ingredients
Vegetable cooking spray
3 large eggs
1 cup granulated sugar
3/4 cup all-purpose flour
2 teaspoons cinnamon
1 teaspoon baking soda
1 teaspoon baking powder
1 teaspoon ground ginger
1/2 teaspoon salt
1/2 teaspoon ground nutmeg
2/3 cup canned unsweetened pumpkin
1/2 cup finely chopped pecans, toasted
2 teaspoon lemon juice, divided
1 1/2 cups powdered sugar, divided plus more for dusting
6 oz cream cheese, softened
1/4 cup unsalted butter, softened
1 teaspoon vanilla extract
Instructions
Coat bottom and sides of 15 x 10 inch jelly-roll pan with cooking spray, and line with wax paper. Coat wax paper with cooking spray; set aside.
Beat eggs at medium speed with an electric mixer 5 minutes or until thick and lemon-colored; gradually add granulated sugar, beating until combined. Combine flour, cinnamon, baking soda, baking powder, ginger, salt, and nutmeg. Gradually add to egg mixture, beating well. Combine pumpkin, pecans, and 1 teaspoon lemon juice; gradually add to mixture, beating well. Spread batter evenly into prepared pan.
Bake at 375 degrees for 15 minutes or until a wooden pick inserted in center comes out clean.
Sift 1/2 cup powdered sugar in a 15 x 10 inch rectangle on a clean,dry dish towel. Run a knife around edges of pan to loosen cake and turn cake out onto prepared towel. Peel wax paper off cake. Starting at narrow end, roll up cake and towel together; place,seam side down on a wire rack to cool completely.
Beat cream cheese and butter at medium speed with an electric mixer until creamy; gradually add remaining 1 cup powdered sugar, beating until smooth. Stir in vanilla and 1 teaspoon lemon juice.
Unroll cake; remove towel. Spread cream cheese mixture on cake, leaving 1-inch border around edges. Re-roll cake without towel, and place, seam side down, on a serving platter. Cover and chill at least 3 hours. Garnish, if desired.
Recipe and Photo: Whole Lotta Oven / CC BY