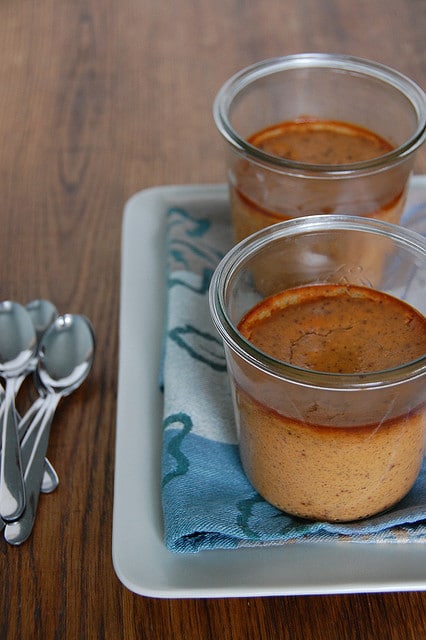 Ingredients
3/4 Cup sugar
1/2 teaspoon Salt
1 teaspoon ground Cinnamon
1/2 teaspoon ground Ginger
1/4 teaspoon ground Cloves
2 large Eggs
1 can (314mL) Evaporated Milk

Pumpkin puree

600-650 grams Pumpkin – Hokkaido, Nutmeg, or Hubbard Pumpkins are fine (this weight is including peel and seeds)
300 grams Water (slightly less than 3/4th Cup)
1 Tablespoon + 1/4 teaspoon Vegetable or Peanut Oil
Instructions
Preheat oven to 218°C (425°F).
Mix sugar, salt, cinnamon, ginger and cloves in small bowl. Beat eggs in large bowl. Stir in pumpkin puré and sugar-spice mixture. Gradually stir in evaporated milk. Pour into canning jars.
Place the jars in a small casserole dish filled with water and place this in the preheated oven for 15 minutes. Reduce the temperature to 177°C (350°F); bake for another 40 to 50 minutes or until toothpick inserted near the center comes out clean.
Carefully remove from the oven and casserole dish. Cool on wire rack for 2 hours. Top with whipped cream before serving is desired.

Pumpkin puree

Cut the ends off of the pumpkin, peel with a potato peeler, then cut in half.
Scoop out the seeds and discard or save for further use in another recipe. Slice the pumpkin into strips, and then chop.
Heat oil over high heat in a pot with a tight fitting lid. Add the pumpkin and stir until all the pumpkin is coated in oil. Pour in the water, and give it a stir. Place the lid on the pot and let it cook for 10 minutes.
After 3 minutes of cooking on high, you can lower the heat to medium-high heat. After 10 minutes of cooking the pumpkin should be really soft when pierced with a fork and easily mash as well.
Strain the liquid from the pumpkin. Discard or save for a vegetable soup later on. Once the liquid has been discarded, puré the pumpkin with a food processor or by hand with a fork. Because the initial puré, even if done in a food processor, leaves tiny lumps and pieces, it is important to press it through a sieve. Just press it through with a fork, and don't forget to scrape the majority of it off the bottom of the sieve. You will be left with about 17 ounces or about 500 grams of pumpkin puré.
https://stlcooks.com/pumpkin-custard/
Recipe and Photo: For the Love of Food / CC BY-NC