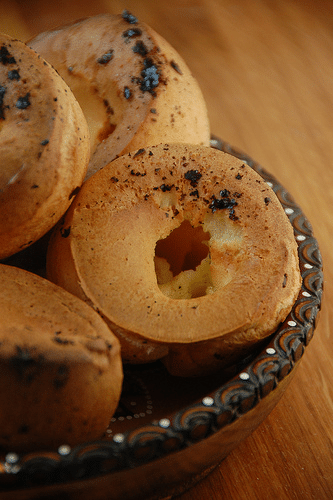 Recipe: Popovers
Ingredients
1 Cup Flour
1 1/2 teaspoons Sugar
1 teaspoon Salt
1 Cup Milk
3 Eggs
2 Tablespoons Melted Butter
Instructions
Grease a 12-muffin tin with butter.
Place muffin tin in a cold oven and preheat the oven to 200°C (392°F) with the muffin tin inside.
Blend all ingredients together in a tall container – we like to use our immersion blender for this.
Carefully and quickly, remove the muffin tin from the oven. It is important that the muffin tin is hot when you pour the batter in, so work quickly.
Pour batter into muffin tin until each is about 3/4 full and return to the oven.
Bake for 25-35 minutes, or until golden brown. Remove immediately from muffin tin and place on a cooling rack. Eat while hot and lightly crispy on the outside, but make sure not to burn yourself!
Recipe and Photo credit: For the Love of Food / CC BY-NC