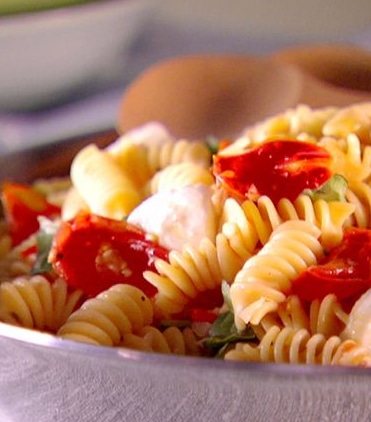 Recipe: Fusilli alla Caprese
Ingredients
1 pound fusilli pasta
3 tablespoons olive oil
2 cloves garlic, minced
3 cups cherry tomatoes, quartered (about 1 /2 pints)
1 teaspoon salt
1/2 teaspoon freshly ground black pepper
1/2 cup packed fresh basil leaves, torn
8 ounces fresh mozzarella, diced (about 1 1/4 cups)
Instructions
Bring a large pot of salted water to a boil over high heat. Add the pasta and cook until tender but still firm to the bite, stirring occasionally, about 8 to 10 minutes. Drain pasta into a large bowl and reserve 1/2 cup of the cooking liquid.
In a medium skillet heat the olive oil over medium heat. Add the garlic and saute until fragrant, about 2 minutes. Add the tomatoes, salt, and pepper. As the tomatoes cook and soften, smash them with a fork.
Continue to cook until the tomatoes make a chunky style sauce, about 4 minutes. Transfer the tomato sauce to the bowl with the pasta. Toss to combine. Add the basil leaves and mozzarella. Stir to combine. Add the reserved pasta water, 1/4 cup at a time, until the pasta is moist. Serve.
Recipe and Photo credit: VeggieTable on nibbledish / CC BY-SA