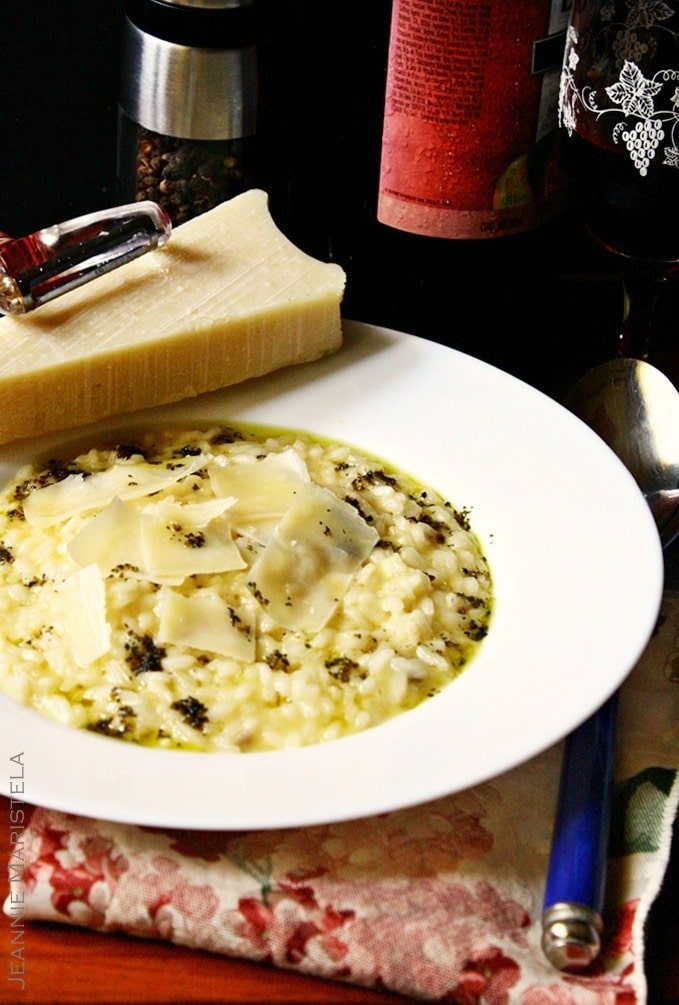 Recipe: Parmesan Risotto with Pesto
Ingredients
3/4 cup Arborio rice
2 Tablespoons unsalted butter
1/2 of a large white onion, chopped
3 1/2 cups hot vegetable stock (or chicken stock if not vegetarian)
1/4 cup dry white wine
1/2 cup grated parmigiano-reggiano/ regular parmesan
fresh cracked black pepper
salt (optional and according to taste)
a pat of butter (additional to finish the dish)
prepared homemade or store bought pesto
shavings of parmigiano-reggiano/ regular parmesan
Instructions
In a large sauce pan over medium heat, melt butter and saute onions until translucent and soft.
Add the Arborio rice and saute for about 2 minutes.
Add the the dry white wine. Then slowly add the vegetable stock (or chicken broth) half a cup at a time while slowly stirring the rice. When the rice absorbs a decent amount of liquid add another half cup of stock, repeat this process until rice is cooked (al dente) and is a bit soupy.
Add the grated parmigiano-reggiano and gently stir until creamy.
Season with freshly cracked black pepper (and salt, optional and according to taste) And finish the risotto dish with a pat of butter and remove from heat.
Serve dribbled with a bit of pesto and shaving of parmigiano-reggiano.
Recipe and Photo Credit: Jeannie Maristela is licensed under a Creative Commons Attribution-NoDerivs 3.0 Unported License.