Jump to recipe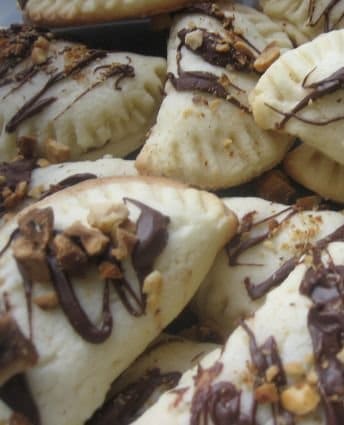 Ingredients
2 cups all purpose flour
1/4 teaspoon salt
1/2 teaspoon baking powder
1/2 teaspoon cinnamon
1/2 cup unsalted butter, softened
1 cup sugar
1 egg, slightly beaten
2 tablespoons milk
1/2 teaspoon vanilla
1/2 cup Nutella
1/4 cup semisweet chocolate chips
1/4 cup hazelnuts, roasted, skinned and chopped
Instructions
Roast hazelnuts at 400 degrees for 10-15 minutes. Place hot nuts in a towel and rub vigorously until husks come off. Peel off remaining husks if possible and place in food processor. Chop roughly.
Combine flour, salt, cinnamon and baking powder in a medium bowl. In a larger bowl, cream sugar and butter. Add all dry ingredients and mix until well incorporated. Add egg, milk and vanilla and mix until fully blended.
Roll dough on a lightly floured surface and cut into 2 separate balls. Wrap and refridgerate for at least 1 hour.
Heat oven to 350 degrees. On a floured surface, roll out dough to 1/8 inch thick and cut out circles with a cookie cutter or the rim of a floured glass. Drop Nutella in a pipe or the end of a plastic baggie with a cut tip and drop 1/2 teaspoon into center of the cookie. Fold over edge and seal with a fork.
Bake cookies for 8-10 minutes or until edges brown ever so slightly. Cool on wire racks.
Once cookies have completely cool, melt chocolate chips. With a fork, drizzle melted chocolate over cookies. Sprinkle with hazelnuts. Allow at least 5-10 minutes for chocolate to set.
Recipe and Photo: Nibledish / CC BY-SA