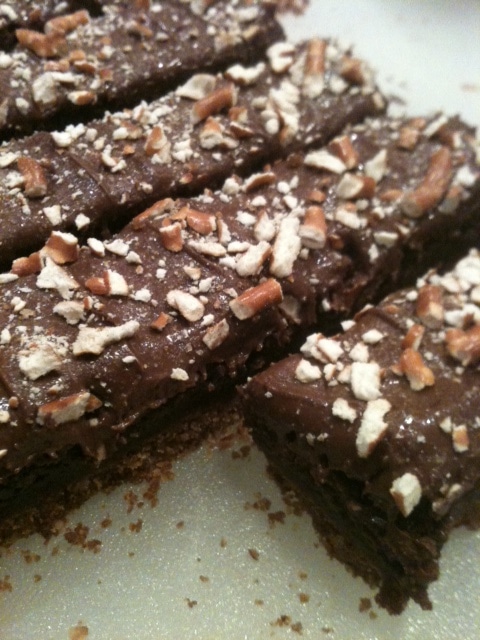 Nutella Pretzel Brownie Bars
Ingredients
For Pretzel Crust:

3 tablespoons melted butter
2/3 cup brown sugar
1 cup pretzels

For Brownies:

1 stick butter, at room temperature
1 cup sugar
2 eggs
1 teaspoon vanilla
1/3 cup Nutella
1/4 cup unsweetened coco powder, sifted
2/3 cup all-purpose flour
1/4 teaspoon salt
Extra Nutella for frosting
Instructions
To make the crust, first preheat oven to 350 F. Spray an 8 x 8 baking pan with cooking spray. In a food processor, add 1 cup of pretzels and pulse until they are like graham cracker crumbs. Add sugar and pulse until combined. Then pour in melted butter and pulse again to combine.
Press pretzel mixture into the bottom of pan. Bake for about 14 minutes, until edges are golden.
For the brownies, cream butter and sugar together.
Add eggs, one at a time and combine well. Add vanilla, salt and Nutella. Mix well. Add sifted coco and flour. Mix until combined.
Pour brownie batter over pretzel crust. Bake for 45 minutes.
Allow brownies bars to cool completely before frosting, about 1 hour.
Outer sides will be crunchy, the middle will be softer. You can trim the sides off. Then add crushed pretzels on top.
https://stlcooks.com/nutella-pretzel-brownie-bars/
Recipe and Photo: Foodista / CC BY