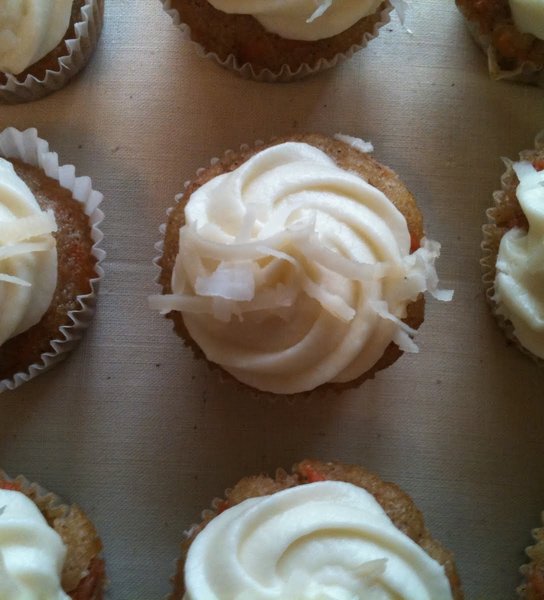 Ingredients
1 pound carrots, peeled and finely grated
3 large eggs, room temperature
1/3 cups buttermilk
2 cups sugar
1.5 cups vegetable oil
1.5 teaspoons vanilla extract
3 cups all purpose flour
1 teaspoon baking soda
2 teaspoons baking powder
1 teaspoon salt
2 teaspoons ground cinnamon
1/2 teaspoon ground ginger
1/2 teaspoon ground nutmeg
1/2 teaspoon ground allspice
(optional additions: 1/2 cup golden raisins, 1/2 cup crushed and drained pineapple)

Cream Cheese Frosting

1 cup (2 sticks) unsalted butter, room temperature
12 ounces cream cheese, room temperature
1 pound (4 cups) powdered sugar, sifted
3/4 teaspoon pure vanilla extract

Garnish Options:

Toasted coconut or candied carrots (see below)
Instructions
Cupcake Batter:

Preheat oven to 325F. Line mini or standard muffin tins with paper liners.
Whisk together carrots, eggs, buttermilk, sugar, oil, and vanilla. In another bowl, whisk together flour, baking soda, baking powder, salt, and spices. Stir flour mixture into carrot mixture until well combined.
Divide batter evenly among lined cups, filling each three-quarters full. Bake, rotating tins halfway through, until a cake tester inserted in centers come out clean, about 12 minutes for mini's or 23 to 28 minutes for standard cupcakes. Transfer tins to wire racks to cool 10 minutes; turn out cupcakes onto racks and let cool completely. Cupcakes can be stored overnight at room temperature, or frozen up to 2 months, in airtight containers.
To finish, use a piping bag or an offset spatula to top cupcakes with a mound of frosting. Refrigerate up to 3 days in airtight containers; bring to room temperature and, if desired, garnish with toasted coconut or candied carrots before serving.

Garnish options:

Toasted coconut:

Spread coconut evenly on a baking sheet and bake at 350F for about 10 minutes (stirring occasionaly) or until lightly browned.

Candied carrots:

Slowly bring about a cup of sugar and a cup of water to a boil with carrots, stirring occasionally. Boil carrots for about10 minutes, then use a slotted spoon to transfer to parchment or wax paper to cool. Toss cooled carrots in granulated sugar to coat before using as a garnish or to store.

Frosting:

Beat butter and cream cheese with on medium speed with an electric mixer until fluffy, about 2-3 minutes. Reduce speed to low and add sugar a little at a time, then vanilla, and mix until smooth and combined. If not using immediately, frosting can be refrigerated up to 3 days in an airtight container; before using, bring to room temperature, and beat on low speed until smooth again.
https://stlcooks.com/mini-carrot-cupcakes/
Recipe and Photo: Sweet Climate / CC BY