Jump to recipe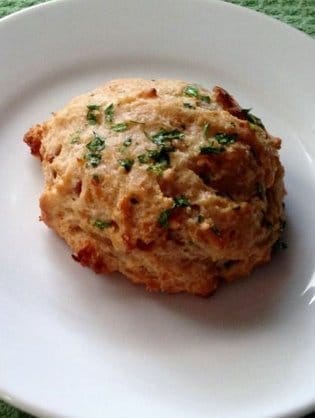 Ingredients
Biscuits:
2 cups all-purpose flour
1 Tbsp. baking powder
1 tsp. salt (I use Kosher)
1/2 tsp. garlic powder
3 slices bacon, diced into 1/4-inch pieces (I use thick-cut bacon from a local butcher, if your bacon is thin you might want to use 5 or 6 slices.)
1 cup (4 oz.) finely grated sharp cheddar cheese
2 Tbsp. unsalted butter, cut into small pieces and chilled
1/4 cup maple syrup
1/3 cup buttermilk
1/3 cup milk (I used 2%)
Topping:
2 Tbsp. unsalted butter, melted
1 tsp. finely chopped fresh parsley (or 1/4 tsp. dried)
1/2 tsp. garlic powder
Pinch salt
Instructions
Biscuits:
Set oven rack to middle position. Preheat oven to 400 F (I baked at 375 F Convection). Line a baking sheet with parchment paper.
Cook bacon in medium skillet over medium heat until crispy. Transfer to a paper-towel lined plate. Carefully pour reserved bacon grease into freezer-safe bowl and freeze (mine was in freezer for 15 minutes while I prepped other ingredients).
Grate cheese and set aside.
Whisk flour, baking powder, salt, and garlic powder in a large bowl until combined. Add frozen bacon fat to bowl in pieces (I broke up the fat with a small cheese spreader), add butter and use a pastry cutter, or two forks, to mix butter and bacon fat into flour mixture until all the fat and butter are covered with flour and there are many pea-sized pieces in the mix.
Add grated cheese and bacon and use pastry cutter to combine.
Add maple syrup, buttermilk, and milk (Reserve a couple tablespoons milk and add only if the mixture is dry, I didn't need all 1/3 cup milk.), use a spatula to mix until dough leaves the sides of bowl, don't over mix.
Portion dough onto baking sheet using an ice cream/cookie scoop (I used a #20, about 1/4 cup, if you don't have you could use 2 spoons), leaving a couple inches between biscuits.
Bake for 14 to 17 minutes, rotating baking sheet front to back halfway through baking, until puffed and light golden brown. Remove from oven and place pan on a cooling rack.
Make and add topping:
Mix 2 Tbsp. melted butter, 1 tsp. chopped fresh parsley (or 1/4 tsp. dried), 1/2 tsp. garlic powder, and a pinch of salt in a small bowl until combined. When biscuits come out of the oven brush them all over using all of the butter mixture. Serve warm.