Jump to recipe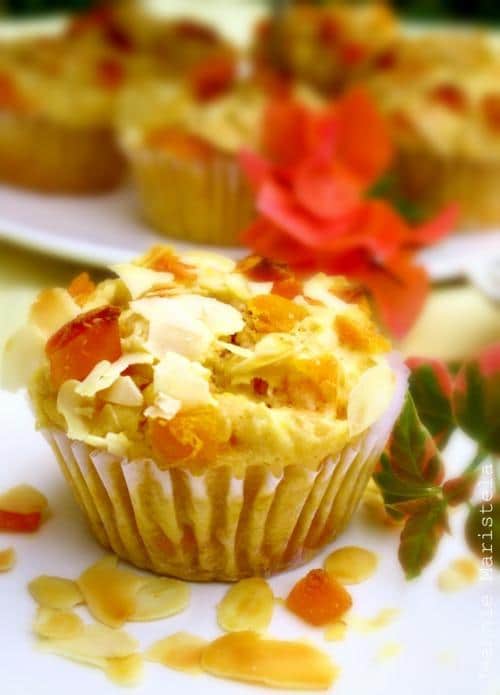 Ingredients
2 1/2 cups all-purpose flour
1 tablespoon baking powder
1/2 teaspoon salt
1/2 cup sugar
1 cup mangoes, small diced
2/3 cup dried mangoes, chopped
2/3 cup flaked almonds
1/4 cup melted butter
1 large egg
1/2 cup sour cream
1/2 cup evaporated milk
1/2 teaspoon vanilla
1 teaspoon lemon zest
Instructions
Sift together all the dry ingredients in a bowl. Add the diced fresh mangoes into the flour mixture and gently stir until mangoes are coated with flour.
Mix together the dried mangoes and flaked almonds. Put half of it into the flour mixture and save half of it to top the muffins before baking.
In another bowl, mix melted butter, egg, sour cream, evaporated milk, vanilla and lemon zest.
Pour the wet ingredients into the dry ingredients and lightly and briefly mix.
Use a large ice cream scoop to fill each muffin cup with batter.
Sprinkle the remaining half of the dried mango-almond mixture over each unbaked muffin.
Bake for 20-25 minutes or when cake tester or toothpick inserted in center of a muffin comes out clean.
Photo and Recipe credit: Jeannie Maristela is licensed under a Creative Commons Attribution-NoDerivs 3.0 Unported License.