Jump to recipe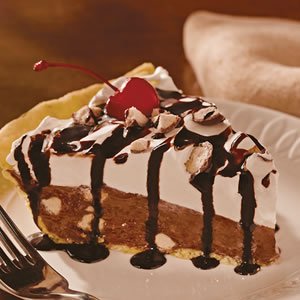 Malt Shoppe Chocolate Mousse Pie

Ingredients
1 (9-inch) refrigerated pie crust
1/3 cup packed light brown sugar
1/3 cup malted milk powder
3 tablespoons cornstarch
1/4 teaspoon salt
1 (14-ounce) can Eagle Brand Sweetened Condensed Milk
1 cup semi-sweet chocolate morsels
1 teaspoon vanilla extract
1 (8-ounce) container frozen non-dairy whipped topping, thawed, divided
3/4 cup crushed chocolate-covered malted milk balls, divided
Chocolate flavored syrup, maraschino cherry, garnishes
Instructions
HEAT oven to 450°F. Thoroughly prick bottom and sides of crust with fork to prevent shrinking. Bake pie crust as directed in baked shell using 9-inch glass pie plate. Cool completely.
COMBINE brown sugar, malted milk powder, cornstarch and salt in medium saucepan. Whisk sweetened condensed milk, stirring constantly, over medium heat until mixture comes to a boil and thickens. Remove from heat, stir in chocolate morsels and vanilla until smooth. Refrigerate filling until cooled.
FOLD in 1 1/4 cups of whipped topping into filling. Fold in 1/2 cup crushed malted balls. Spoon filling into cooled, baked crust. Top pie with remaining whipped topping; sprinkle with remaining crushed malted balls. Drizzle with chocolate syrup; top pie with cherry. Refrigerate.
Recipe and Photo Courtesy of Eagle Brand