Jump to recipe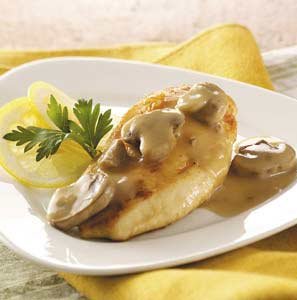 Lemon Mushroom Chicken

Ingredients
1 can Mushroom soup
1 can milk
4 half boneless Chicken breasts
4 cloves garlic, chopped
4 oz sliced Mushrooms
1 oz olive oil
6 oz dry white wine
1 lemon
Instructions
Preheat oven to 350 degrees.
Heat soup and milk over low heat till warm.
Place Chicken in well greased 9×13 baking dish
Drizzle with oil,sprinkle with garlic.
Pour soup mixture and wine over Chicken.
Spread Mushrooms over Chicken.
Squeeze lemon over all.
Bake 40 mins till Chicken cooked through. Serve with Pasta.
Recipe and Photo: recipes.wikia.com / CC BY-SA