Jump to recipe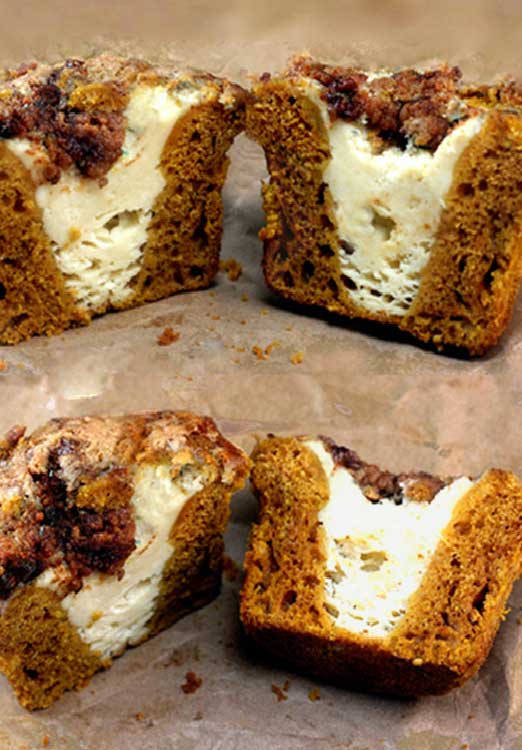 Jumbo Cheesecake Stuffed Pumpkin Muffins with Toffee Streusel – These muffins are one of the best things you will ever wrap your mouth around.
Jumbo Cheesecake Stuffed Pumpkin Muffins with Toffee Streusel

Ingredients
Cupcakes
2 1/2 cups all-purpose flour
1/2 cup sugar
1/4 cup packed brown sugar
2 teaspoons pumpkin pie spice
1 teaspoon baking powder
1 teaspoon baking soda
1/2 teaspoon salt
2 eggs
1 cup roasted pumpkin puree (If ussing canned, strain puree overnight in a colander)
1/2 cup buttermilk
1/4 cup canola oil
1 teaspoon pure vanilla extract
Cheesecake Filling
8 oz cream cheese, softened
1/4 cup sugar
pinch of salt
1 teaspoon pure vanilla extract
1 egg
Toffee Streusel
2/3 cup packed brown sugar
1/3 cup finely chopped pecans
2/3 cup finely chopped chocolate covered toffee
1/2 cup all-purpose flour
1/2 cup cold butter, cubed
Instructions
Make the Muffin Batter
In a large bowl, combine the first seven muffin batter ingredients.
In another bowl, combine the eggs, pumpkin, buttermilk, oil and vanilla. Stir into dry ingredients just until moistened - do not over stir it or you'll get tough muffins. Just a few folds until no flour remains. Set aside while you make the filling and streusel.
Make the Cheesecake Filling
Combine the cream cheese, sugar, egg, salt and vanilla beat until smooth. Do not over beat. Spoon the cream cheese filling into a pastry bag with a medium plain tip or a zip-lock bag with one end snipped off. Set Aside.
Make the Toffee Streusel
In a small bowl, combine the brown sugar, pecans, chopped toffee and flour; cut in butter until crumbly. Place in fridge, covered, until ready to use.
Assemble and Bake the Muffins
Grease the top of the jumbo muffin tins lightly, making sure the area around each muffin well is greased. These babies rise a lot and spread a bit. If you don't use jumbo muffin liners, grease each muffin well too.
Fill the 8 to 10 greased or paper-lined jumbo muffin cups half way with pumpkin batter. Place cheesecake batter filled pastry bag in the middle of each half filled muffin well, and squeeze in the filling until the batter rises and fills the lined muffin wells ? to ¾ths full. Tap the pan on the counter a few times to release air bubbles, which I forgot to do, hence some of the holes in my cheesecake filling.
Cover white circles of cheesecake on top with any extra pumpkin batter, or just scoop the pumpkin batter from the sides or underneath to cover. If you don't care about a big, muffin dome, skip this step.
Dump large handfuls of toffee streusel over cheesecake filled muffin batter. Make sure to keep it contained in the muffin well -mounding it like little mountains. Any that spills onto muffin pan, wipe off or brush into one of the wells. Ignore my raw streusel photos...I wiped all that extra crumb off
Bake at 375° for 25-30 minutes (about 15-18 minutes for standard-sized muffins) or until a toothpick inserted near the center comes out clean. Cool for 5 minutes before removing from pan to a wire rack.
Recipe and Photo: Parsley, Sweet, and Sage / CC BY-ND