Jump to recipe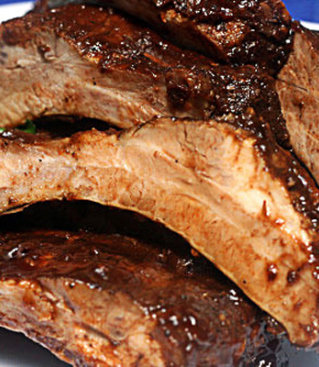 Notes
Make life easier by dividing the sauce in half..one half for basting, the other half for serving. If you run out of sauce during basting, just pour some of the other half into the basting bowl, but I doubt you would run out. When time to serve, just heat up the remaining sauce, with no worries, since none of it touched the brush that was used to baste the pork as it cooked.

Ingredients
1 rack pork baby back ribs
Dry Rub
1/2 tablespoon kosher salt (or 1 tsp table salt)
1/2 tablespoon paprika
1/2 tablespoon onion powder
1/2 tablespoon garlic powder
1/2 tablespoon dried thyme
1/2 tablespoon dried oregano
1 teaspoon black pepper, ground coarsely
1/2 tablespoon ancho powder (optional)
1 teaspoon cayenne pepper (optional)
Pomegranate BBQ Sauce
2 cups pomegranate juice
1 small can tomato paste
3 tablespoons molasses
3 tablespoons dry mustard
1 tablespoon cumin powder
4 cloves garlic, minced
Half a medium onion, finely diced
1/4 cup honey*
1/2 of a cherry or jalapeno pepper, minced (optional)
1 large lemon, juiced
Some of the dry rub to taste or just salt and pepper
Instructions
Combine all dry rub ingredients. Sprinkle on and rub into both sides of the ribs until well coated.
For full recipe instructions, visit Parsley, Sage, and Sweet by clicking here!
Recipe and Photo: Parsley, Sweet, and Sage / CC BY-ND