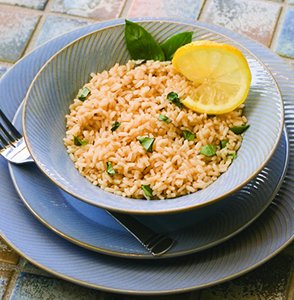 Italian Chicken and Lemon Basil Brown Rice
Ingredients
2 cups Uncle Ben's® Fast & Natural™ Whole Grain Brown Rice
4 boneless, skinless chicken breasts
2 tablespoons Italian dry herbs
1 15–ounce can cannellini or other white bean
5 Roma tomatoes, large chop
3 cups broccoli florets
Juice of 1 lemon, divided
1/4 cup packed fresh basil leaves, chopped
Instructions
Prepare Rice according to packages directions.
Heat large skillet with lid over medium-high heat and coat pan with nonstick spray. Sprinkle dry herbs over chicken; add to skillet. Cook 4 minutes; turn chicken over.
Add beans including liquid, tomatoes and broccoli, cover skillet. Once liquid boils, reduce to simmer; cook until broccoli is tender, about 10 minutes. Add half the lemon juice to mixture.
Add remaining lemon juice and fresh basil leaves to cooked rice. Serve with chicken.
https://stlcooks.com/italian-chicken-and-lemon-basil-brown-rice/
Recipe and Photo: Uncle Ben's