Jump to recipe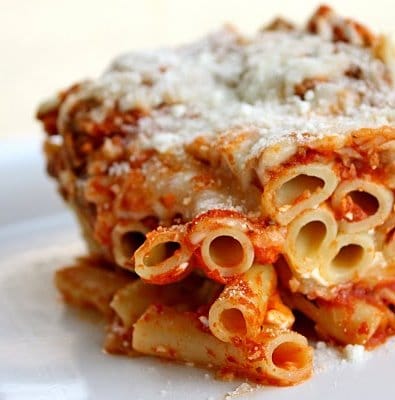 Baked Rigatoni with Meat Sauce

Ingredients
2 tablespoons olive oil
2 tablespoons butter
1 Onion, chopped
1 carrot, finely chopped
1 stalk celery, finely chopped
2 cloves garlic, minced
1/4 cup chopped fresh parsley
2 tablespoons chopped fresh basil
1 lb rigatoni Pasta
1 lb lean ground beef (at least 90% lean)
1 1/2 teaspoons fennel seeds, crushed
1 1/2 teaspoons salt
1/4 teaspoon black pepper
1/2 cup white wine
4 cups canned diced tomatoes in tomato puree
6 tablespoons grated Parmesan cheese
1/2 lb mozzarella Cheese, shredded
Instructions
In large pan heat oil& butter over low heat.
Add Onion, carrot, celery, garlic, parsley, basil and cook until very soft, about 20 minutes.
Raise heat to moderate, add ground Beef, fennel seed, salt and black pepper, cook until no longer pink.
Add wine and cook until almost evaporated, about 5 minutes.
Add tomatoes with juices and simmer covered for 30 minutes.
Stir in Parmesan and continue to cook.
Preheat oven to 350, and lightly grease 3 quart baking dish.
In a large pot of boiling water cook rigatoni until almost al dente, about 12 minutes.
Drain, toss Pasta with meat sauce.
Put 1/2 of the mixture in dish, sprinkle with 1/2 the mozzarella, cover with remaining Pasta mixture, and top with remaining Cheese.
Bake until Pasta is hot, about 20 minutes.
Recipe and Photo: recipes.wikia.com / CC BY-SA