Jump to recipe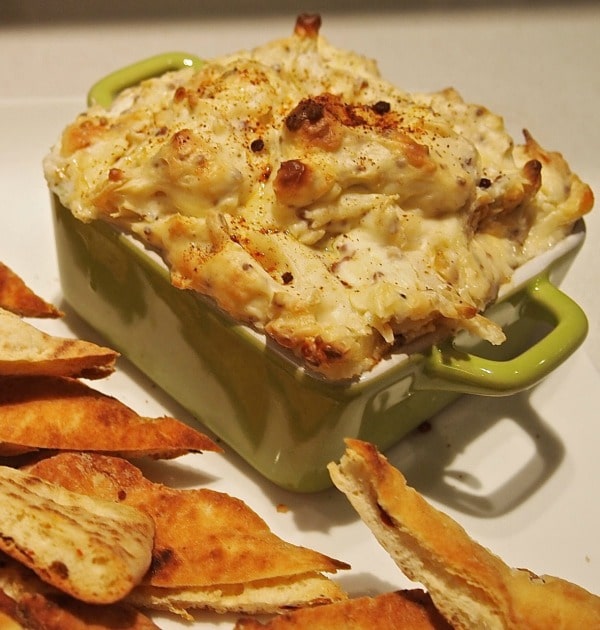 Irish Cheese Dip

Ingredients
1 large package (8 oz) of cream cheese, at room temperature
1 small onion, sliced
1 tbsp of butter
2 tbsp of beer, we recommend Guinness
pinch of sugar
1 cup of sharp cheddar cheese, shredded
1 tsp of honey
1.5 tsp of brown mustard
1 tsp of dried thyme
2 tbsp of Jameson Irish Whiskey
Salt and pepper
Cayenne pepper (optional)
Instructions
Place the the sliced onion, beer, sugar, and butter in a pan over medium heat;
Allow the onions to cook slowly (about 15 minutes) until they begin to color and caramelize;
While the onions are cooking, place the softened cream cheese, honey, brown mustard, thyme, grated sharp cheddar, and beer in a bowl and mix together until well blended;
Add the carmelized onions to the cream cheese mix and stir to blend;
Return the pan that the onions cooked in to the heat and deglaze with the Whiskey. Scrape the bottom well. The alcohol will boil off and you will be left with a small amount of syrupy liquid. Add to the cream cheese mixture;
Season with salt and pepper and place in an oven proof ramekin (can be prepared ahead and kept in the fridge until you are ready to serve);
When you are ready to serve, preheat your oven to 350°F (175°C);
Cook the cheese dip for about 20 to 25 minutes (middle oven). It will begin to bubble and color;
Sprinkle a little cayenne pepper on top and serve warm with pita/naan or corn chips.
Recipe and Photo: EpiCurious Generations / CC BY-ND