Jump to recipe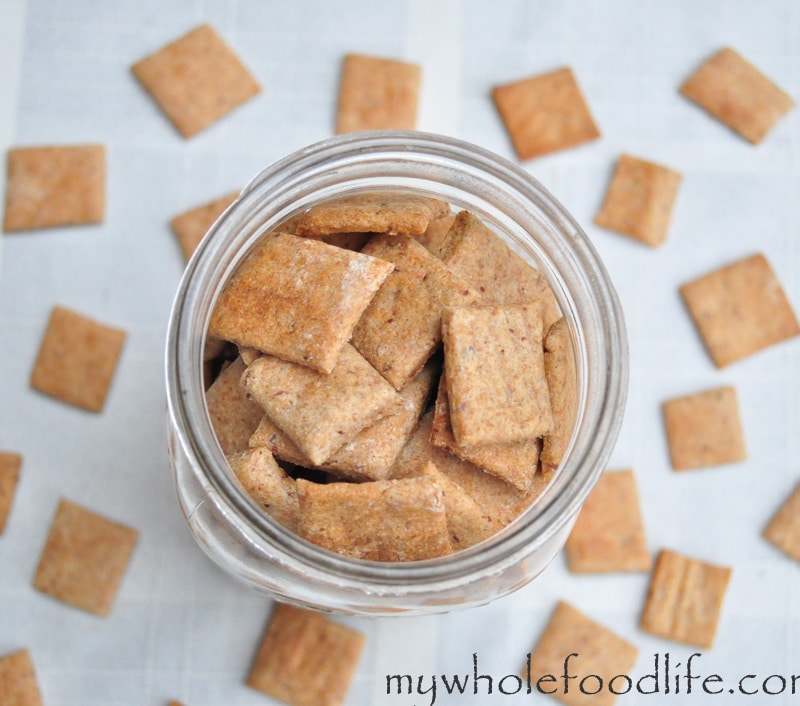 Homemade Wheat Thins

Ingredients
2 1/2 cups white whole wheat flour
1/4-1/3 cup raw honey (depending on how sweet you want them)
1/4 cup coconut oil (measure after melting)
1/4 cup applesauce (unsweetened)
1 tsp salt
1/2 tsp baking soda
1 egg (I used a flax egg replacement)
1/4 cup milk (I used almond milk)
Optional add ins: basil, parsley, oregano, rosemary, thyme
Instructions
Preheat oven to 350. Mix all the dry ingredients in one bowl. Mix wet in another. Add wet to dry and mix until combined. Gather the dough into a ball and wrap it with plastic. Stick it in the fridge for about 10-15 minutes so it gets a bit more firm. Once it's firm, cut the dough in half with a bench scraper. Tear two pieces of parchment to line your baking bans. You can also use a silpat.
Roll out half the dough by placing the ball on top of one sheet of parchment paper, and the plastic wrap between the dough and the rolling pin. This will let you roll the dough out very thin without it sticking the rolling pin, or the counter. It also makes for easy transfer to the baking sheet.
Roll the dough out very thin. Try to roll it out in an even square if possible. Once the dough is rolled out, score it with a pizza cutter. I cut mine into bite sized squares. This will make the pieces come apart very easy. Repeat these steps with the other half of the dough.
Once done, bake in the oven for about 15 minutes. Watch them carefully though, because everyone's oven is a bit different and they can easily burn. Once the edges look browned, pull the pans out and carefully flip the pieces over. Bake for another 5-7 minutes, or until the pieces are crunchy.
I got far more crackers in my batch than you would get in a box of store bought wheat thins. Way cheaper to make too! I store mine in a glass jar in the pantry. They should last a couple weeks. To keep them crispy, scatter a bit of rice at the bottom of the container. The rice should help absorb the moisture and keep the crackers crisp.
Image and recipe reprinted with permission from mywholefoodlife.com and www.healthyaperture.com