Jump to recipe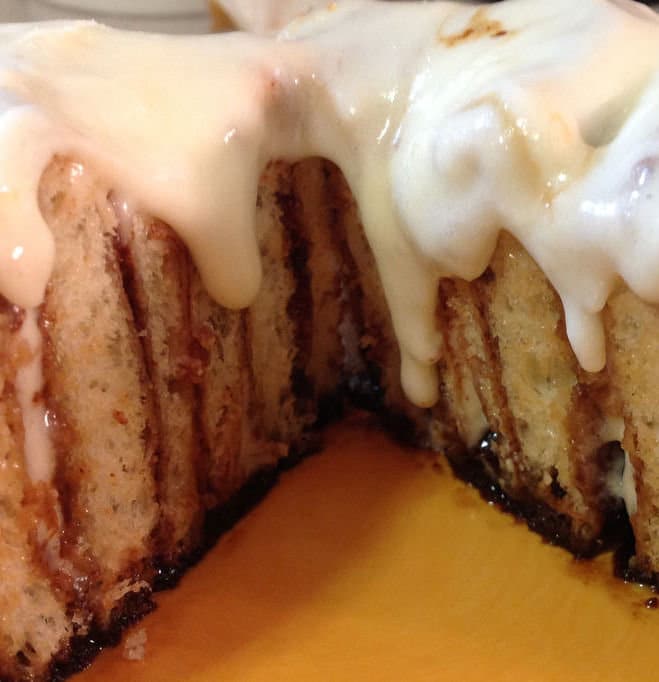 Copycat Cinnabon Cinnamon Rolls

Ingredients
Cinnamon roll dough:
1/4 cup warm water
2 1/2 teaspoons yeast
1 tablespoon of white sugar
3/4 cup warm milk (110 degrees F/45 degrees C)
2 eggs, room temperature
1/3 cup margarine, melted
4 – 4 1/2 cups bread flour
1 teaspoon salt
1/2 cup white sugar
Cinnamon filling:
2 cups Dark brown sugar, packed
4 tablespoons ground cinnamon
1/3 cup butter, softened
Cream cheese frosting
1/2 cup butter, softened
1 teaspoon vanilla extract
1/4 teaspoon salt
1 (8 ounce) package cream cheese, softened
2 2/3 cups confectioners' sugar
Instructions
Mixing and Proofing the Dough
Mix the water, yeast, and sugar. Let sit for 10 minutes to make a slurry.
While the slurry is forming add the dry ingredients for the dough together in a mixer with a dough hook.
When slurry is done add all remaining wet ingredients to the dry ingredients, mix for 5 minutes.
Put the dough in an air tight container and let double in size (about an hour)
While the dough is proving you can mix up the sugar and cinnamon mixture that will go inside the cinnamon rolls. I know it seems like a lot of cinnamon, but the cinnamon rolls are going to be big.
Rolling and Filling the Dough
Once the dough has fully proofed, you will need to roll it out on a large surface to roll it out on. Lightly dust the surface with some bread flour so the dough does not stick.
Roll dough into a 16×21 inch rectangle (about 1/4 inch thick).
Spread dough with 1/3 cup butter.
Sprinkle evenly with sugar/cinnamon mixture.
Roll up dough and cut into 12 rolls.
Make sure to reserve about a 1/4 cup of the cinnamon sugar mixture to coat the bottom of the pan to help the rolls come out of the pan easier.
It will be a little tough to start rolling up the roll. As you roll it up lightly tug on the roll to slightly stretch the dough to help hold it together.
Baking
Place rolls in a parchment paper lined 9×13 inch baking pan. Let them rise until nearly doubled again (about 30 minutes).
After they are done rising for the second time, remove the rolls and preheat the oven to 385 degrees F (200 degrees C).
Bake for 15 minutes while the entire pan is covered in aluminum foil.
After 15 minuets remove the foil and bake for an additional 3 to 4 minutes to lightly brown the tops (watch it they will brown quickly!).
The frosting
When you first put the butter in make sure it is at room temperature, and after it is been whipped for about 2 min. you will need to put the bowl in an ice bath to lower the butter down to right around 45°F. As soon as the butter has stiffened up just slightly, whip it with the mixer again and you will noticeable fluff up significantly more this time.
While the mixer is still running, add in the vanilla, salt, and the cream cheese and whip for another 2 min.
After everything is been incorporated add in the confectioners' sugar 1/2 cup at a time.
Final assembly
As soon as the rolls come out of the over put a glob of frosting on each of the rolls and put it back in the over for 1-2 minutes to lightly melt some of the frosting and let it seep in between the rolls.
Let cool for 10-15 minutes, then enjoy your warm homemade Cinnabon cinnamon rolls.
If you let the cinnamon rolls come down to room temperature you will be able to freeze them for up to three months in the freezer, as long as they are in an airtight bag.
Recipe and Photo: Instructables / CC BY-NC-SA (On the Instrucables page you will also find step-by-step photos, if you need a bit more help with this recipe.)