Jump to recipe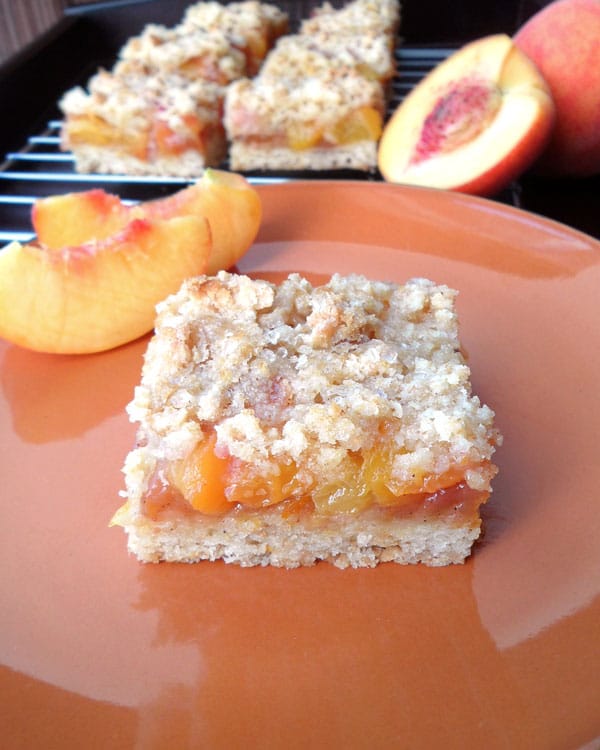 Healthier Peach Crumb Bars

Ingredients
2 1/2 c diced peaches (about 4 small peaches)
1 tbsp orange juice, freshly squeezed
1/2 tsp orange zest
1/2 c white sugar, divided
6 tbsp brown sugar, divided
1 3/4 tbsp cornstarch
1/4 tsp cinnamon
1/8 tsp ground ginger
1 c all-purpose flour
1/2 c whole wheat flour
1/2 tsp baking powder
1/4 tsp sea salt
4 tbsp solid, cold coconut oil (or 6 tbsp cold butter, cut into pieces)
1 small egg
1/8 c Greek yogurt (or sour cream)
3/4 tsp vanilla extract
1 tbsp coarse white sugar or turbinado sugar for sprinkling
Instructions
Preheat oven to 375 F. Line a 8×8 inch baking dish with parchment paper, allowing for overhang on the sides.
Pit and dice peaches, you could also peel them if preferred. Toss peaches with orange juice and orange zest. In a small bowl combine 1/4 cup white sugar, 2 tbsp brown sugar, cornstarch, cinnamon and ginger. Sprinkle over peach mixture and toss until evenly coated; set aside.
In a large mixing bowl whisk together flours, baking powder and salt. Using a fork or pastry cutter cut in cold coconut oil (or butter) until mixture looks like crumbs. In a small bowl combine egg, Greek yogurt and vanilla. Stir into flour mix until well incorporated. Add remaining 1/2 cup white and 4 tbsp brown sugar and stir to combine.
Firmly press 2/3 of the mixture into prepared baking dish. Toss peaches one more time and spread over bottom crumb layer. Sprinkle remaining crumb mix over peaches and sprinkle with coarse white or turbinado sugar.
Bake for 40-45 minutes until golden brown. Serve warm with vanilla ice cream or cool and cut into bars. My family prefers these peach bars fresh and still warm from the oven.
Image and recipe reprinted with permission from specialtycakecreations.com and www.healthyaperture.com