Jump to recipe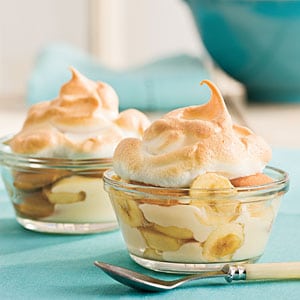 Guilt-Free Banana Pudding

Ingredients
1/3 cup all-purpose flour
Dash of salt
2 1/2 cups 1% low-fat milk
1 (14-oz.) can fat-free sweetened condensed milk
2 egg yolks, lightly beaten
2 teaspoons vanilla extract
3 cups sliced ripe bananas
48 reduced-fat vanilla wafers
4 egg whites
1/4 cup sugar
Instructions
Preheat oven to 325°. Combine flour and salt in a medium saucepan. Gradually stir in 1% milk, sweetened condensed milk, and yolks, and cook over medium heat, stirring constantly, 8 to 10 minutes or until thickened. Remove from heat; stir in vanilla.
Layer 3 banana slices, 3 1/2 Tbsp. pudding, and 3 vanilla wafers in each of 8 (1-cup) ramekins or ovenproof glass dishes. Top each with 6 banana slices, 3 1/2 Tbsp. pudding, and 3 vanilla wafers.
Beat egg whites at high speed with an electric mixer until foamy. Add sugar, 1 Tbsp. at a time, beating until stiff peaks form and sugar dissolves (2 to 4 minutes). Spread about 1/2 cup meringue over each pudding.
Bake at 325° for 15 to 20 minutes or until golden. Let cool 30 minutes.
Note: An 8-inch square baking dish may be substituted for glass dishes. Arrange 1 cup bananas on bottom of dish. Top with one-third pudding mixture and 16 vanilla wafers. Repeat layers twice, ending with pudding. Arrange remaining 16 wafers around inside edge of dish, gently pressing wafers into pudding. Spread meringue over pudding, sealing edges; bake 20 to 25 minutes; cool as directed.
Recipe and Photo: Peggy's Recipe Share / CC BY-SA