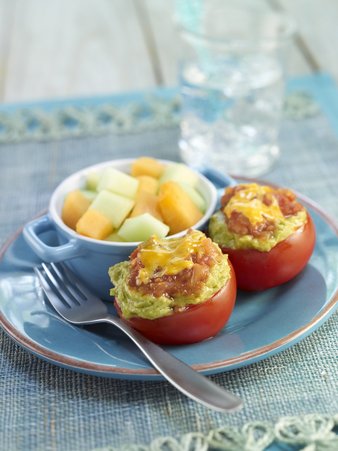 Recipe: Guacamole Tomato Boats
Ingredients
2 medium tomatoes on the vine
8 Tbsp. guacamole (liberal tablespoonfuls)
8 Tbsp. salsa
4 Tbsp. grated cheddar cheese
Instructions
Preheat oven to 400° F or turn broiler on High.
Wash and dry tomatoes.
Slice tomatoes in half, cross section wise, and scoop out the insides, being careful not to puncture/tear the bottom of the tomato half.
With open side of tomato facing up, fill with guacamole, then salsa, and garnish with cheddar cheese.
Bake/broil until cheese melts, then remove from oven.
For more delicious recipes visit Produce for Kids
Recipe and Photo Courtesy of Produce for Kids