Jump to recipe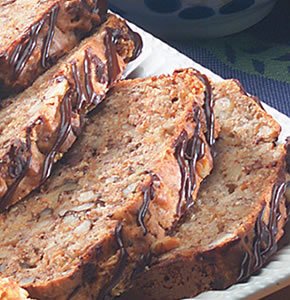 Ingredients
1-1/2 cups flour
1/2 cup sugar
2 tsp. baking powder
1/2 tsp. baking soda
1/2 tsp. salt
2 eggs
1-1/2 cups mashed ripe bananas (2 to 3 bananas)
1/4 cup oil
1/4 cup water
1-1/2 cups Post Selects Banana Nut Crunch cereal
1 square (1 oz.) bittersweet or semi-sweet baking chocolate, finely chopped
1 cup chopped walnuts (optional)
Instructions
HEAT oven to 350°F.
MIX flour, sugar, baking powder, baking soda and salt in large bowl. Beat eggs in small bowl; stir in bananas, oil and water.
ADD banana mixture to flour mixture; stir just until
moistened. (Batter will be lumpy.) Stir in cereal, chocolate and walnuts. Pour into greased 9×5-inch loaf pan.
BAKE 55 to 65 minutes or until toothpick inserted in center comes out clean. Cool 10 minutes; remove from pan. Cool completely on wire rack.
For more great recipes visit Post Selects Cereals
Recipe and Photo Courtesy of Post Selects Cereals