Jump to recipe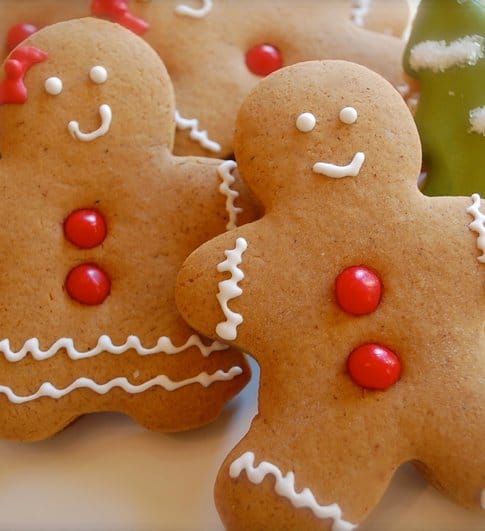 Gingerbreadman Cookies

Ingredients
5 cups all purpose flour
1 teaspoon baking soda
3/4 teaspoon salt
3 teaspoons ginger
2 teaspoons cinnamon
1 teaspoon cloves
1 cup butter, slightly soft
1 cup sugar
1 egg
1 cup molasses
Icing
1 cup powdered sugar
2 teaspoons water
Instructions
Sift flour, soda, salt and spices together in a medium bowl and set aside.
Using a mixer, cream butter and sugar until light and fluffy.
Add egg and mix until combined.
Add molasses and mix until combined.
Gradually add in flour mixture and mix until combined and a dough forms.
Divide dough into four sections and shape each into a flattened disc.
Wrap each disc in plastic wrap and refrigerate for several hours or overnight.
When ready to bake preheat oven to 350 degrees.
Roll out each disc between two sheets of parchment paper using a rolling pin.
Flour the sides of the paper that will touch the dough to make it a little easier to release. Continue to pull the parchment paper away from the dough as you roll it out. Also flip it over and release from the opposite side. It helps a lot when removing the cookie cut outs after they are chilled.
Cut out shapes and remove excess dough to reuse.
Leave cutouts on parchment paper and transfer to cookie sheet.
Bake for 8 minutes. Cool on cooling rack.
Icing
In small bowl, mix powdered sugar and water until thick and pasty. You may need to add a little extra water…one drop at a time. Spoon into a plastic food storage baggie and clip a tiny corner from the baggie. Pipe little faces, hair and dresses on the cooled gingerbread.
Recipe: GA Peach Mom
Photo: recipes.wikia.com / CC BY-SA