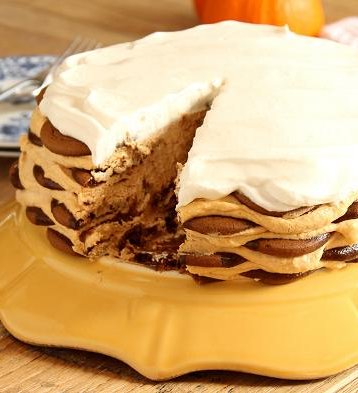 Ginger Snap Pumpkin Icebox Cake
Ingredients
72 Ginger Snap cookies (I used Nabisco)
8 ounces canned pumpkin puree (I used Libby's. Not pumpkin pie filling!)
1/4 teaspoon ground ginger
1/4 teaspoon ground nutmeg
1/2 teaspoon ground cinnamon
1/8 teaspoon ground cloves
3 1/2 cups heavy cream, divided
1 cup confectioners' sugar, divided
2 tablespoons mascarpone cheese
Instructions
In a large bowl, combine the pumpkin, ginger, nutmeg, cinnamon and cloves. Set aside.
In a medium bowl, whip 2 1/2 cups of heavy cream with 3/4 cup confectioners' sugar and the mascarpone cheese with a hand mixer until stiff peaks form. Do not over beat.
Begin to fold in 1/2 cup of the whipped cream to the pumpkin mixture until combined. Continue to fold in the remaining whipped cream to the pumpkin mixture 1 cup at a time until all the cream is combined thoroughly.
On a large cake plate, place nine ginger snaps in a circle and fill the circle with 3 more cookies being sure all the cookies are touching.
Spread a layer of the pumpkin cream over the cookies evenly.
Place another layer of cookies on top of the cream and continue layering the cream and cookies until you reach 6 cookie layers.
Cover loosely with plastic wrap and refrigerate for 8 hours or overnight.
Before serving, whip the remaining cream and sugar until soft peaks form. Spread the whipped cream over the top of the cake and serve immediately.
https://stlcooks.com/ginger-snap-pumpkin-icebox-cake/
Recipe and Photo: Foodista / CC BY