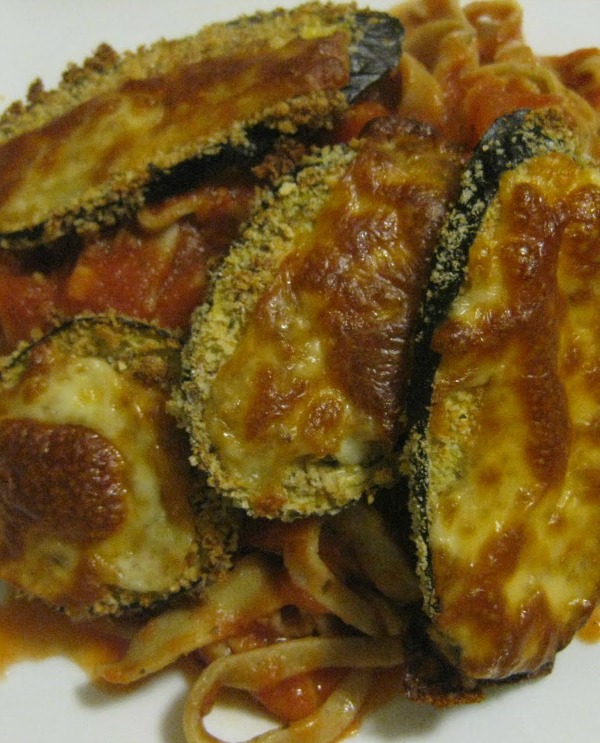 Ingredients
FOR THE BREAD CRUMBS:

1/2 cup grated pecorino
1 cup panko (Japanese bread crumbs)
1/2 teaspoon salt
1/4 teaspoon freshly ground black pepper
3 tablespoons extra virgin olive oil
2 teaspoons minced parsley

FOR THE EGGPLANT AND TOMATOES:

1 cup red grape or tear-drop tomatoes
1 cup yellow grape or tear-drop tomatoes
14 basil leaves, roughly chopped
1/4 teaspoon red pepper flakes
1 teaspoon salt
1/2 teaspoon freshly ground black pepper
1 1/4 cups tomato puree
5 large garlic cloves, peeled and thinly sliced
2 to 2 1/4 pounds eggplants, peeled and cut into 1-inch cubes
1/3 cup extra virgin olive, plus more for drizzling
1 cup fresh whole milk
Instructions
For the bread crumbs: In a medium bowl, combine pecorino, panko, salt, pepper, olive oil, and parsley. Mix well until crumbs are evenly coated with oil. Set aside.
For the eggplant and tomatoes: Preheat oven to 375 degrees. In a large bowl, combine red tomatoes, yellow tomatoes, basil, red pepper flakes, salt, black pepper, tomato puree, garlic, eggplant and 1/3 cup olive oil. Add half of the bread crumb mixture. With your hands or two spoons, gently mix the vegetables and bread crumb mixture until thoroughly combined.
Pour into a 9 x 13 baking dish and top with remaining bread crumb mixture. Sprinkle the mozzarella over the top. Bake, uncovered, until eggplant is tender and top is lightly browned, 45 to 60 minutes; if after 30 minutes the top is browning too rapidly, cover the dish with foil for the remaining cooking time. Remove from oven, and let rest for 10 minutes before serving. Drizzle olive oil to taste over each serving, if desired.
https://stlcooks.com/eggplant-parmesan/
To get some tips on how to make this recipe healthier, visit The Blueberry Files by clicking here!
Photo: The Blueberry Files / CC BY
Recipe: The New York Times