Jump to recipe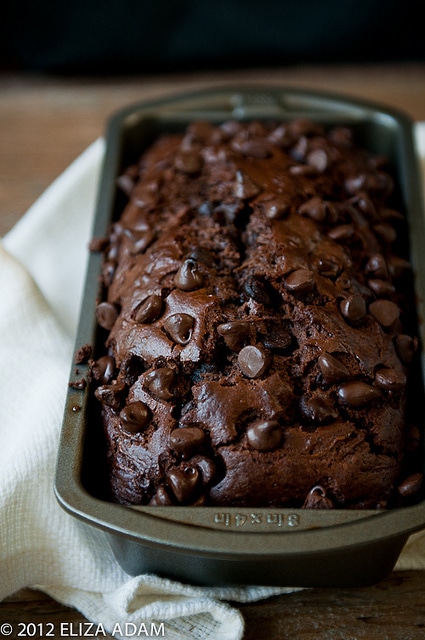 Happy 2014 Everyone! We have been sharing the very best recipes from our site from 2013, and here is #1. We here at STL Cooks are very excited to be starting a new year. And with a new year comes new things. We will be slowly leaking these things to all of you when they happen, but we will give you a teaser. We will not be losing our focus on food, things will get more local…and we won't be just recipes when all is done.
Again, Happy 2014 to all! Hope yours is a good one!
Double Chocolate Zucchini Bread – STLcooks Best of 2013 – Number 1

The double chocolate will make you want to dive right in to this Double Chocolate Zucchini Bread. The hidden serving of veggies will remove all your guilt.

Cook Time
1 hour, 15 minutes
Total Time
1 hour, 15 minutes
Ingredients
2 large eggs
1/3 cup honey
1/2 cup vegetable oil
1/2 cup brown sugar
1 teaspoon vanilla extract
1 teaspoon salt
1/2 teaspoon baking soda
1/2 teaspoon baking powder
1/2 teaspoon espresso powder, optional
1/3 cup King Arthur All-Purpose Baking Cocoa or Dutch-process cocoa
1 2/3 cups King Arthur Unbleached All-Purpose Flour
2 cups shredded, unpeeled zucchini, gently pressed
1 cup chocolate chips
Instructions
Preheat the oven to 350°F; lightly grease an 8 1/2? x 4 1/2? loaf pan.
In a large mixing bowl, beat the eggs, honey, oil, sugar, and vanilla until smooth.
Add the salt, baking soda, baking powder, espresso powder, cocoa, and flour, mixing until well combined.
Stir in the zucchini and chocolate chips.
Pour the batter into the prepared pan.
Bake the bread for 65 to 75 minutes, until the loaf tests done (a toothpick or cake tester inserted into the center will come out clean, save for perhaps a light smear of chocolate from the melted chips).
Remove the bread from the oven, and let it cool for 10 to 15 minutes before turning it out of the pan onto a rack.
Cool completely before slicing; store well-wrapped, at room temperature.
Recipe and Photo Courtesy of Notes From My Food Diary / CC BY-ND