Jump to recipe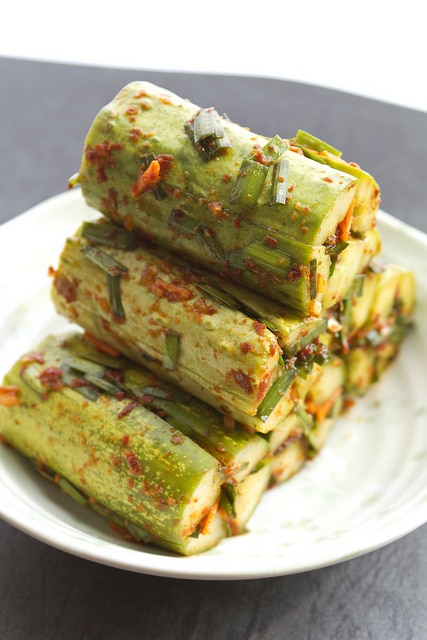 Ingredients
6 Cucumbers
1/3 Carrot (70g)
a bunch of chives or green onion (120g)
1/3 cup of Sea salt (6 Tbsp)
For the filling
5 Tbsp Chili powder
3 Tbsp Fish sauce (Anchovy sauce)
1 Tbsp Sugar
3 Tbsp minced Spring onion
1 Tbsp minced Garlic
1 1/2 tsp minced ginger
Instructions
Cut both ends of each cucumber. And cut it into 3 pieces.
Give a cross cut from the cut edged top toward the bottom, but leave 1cm uncut at the bottom. Place the cucumber pieces on a large bowl.
Boil 1 ½ liter of water ( 6cups) with 1/3 cup of sea salt (6Tbsp) to make salt water.
Pour the salted boiling water onto the cucumber pieces. Let them sit for 40mins.
Meanwhile, Make the filling. First, Mince the spring onion, garlic and ginger.
Chop the chives and carrot into 0.5cm pieces.
Mix all the filling ingredients in a bowl.
Add chopped chives and carrots in a bowl. Mix them well gently with your hand.
Drain cucumber pieces in a strainer for 10-15mins.
Open up the cross cut gently with your hand. Stuff with 1-2Tbsp filling mixture. Then rub the surface of cucumber piece with the sauce.
Put them in a container. Let them sit in a room temperature over night and keep it in the fridge afterward. You can store it up to 2-3weeks in the fridge.
2-3 days later, your cucumber kimchi will be just right to eat.
Photo Courtesy of KFoodaddict on flickr / CC BY