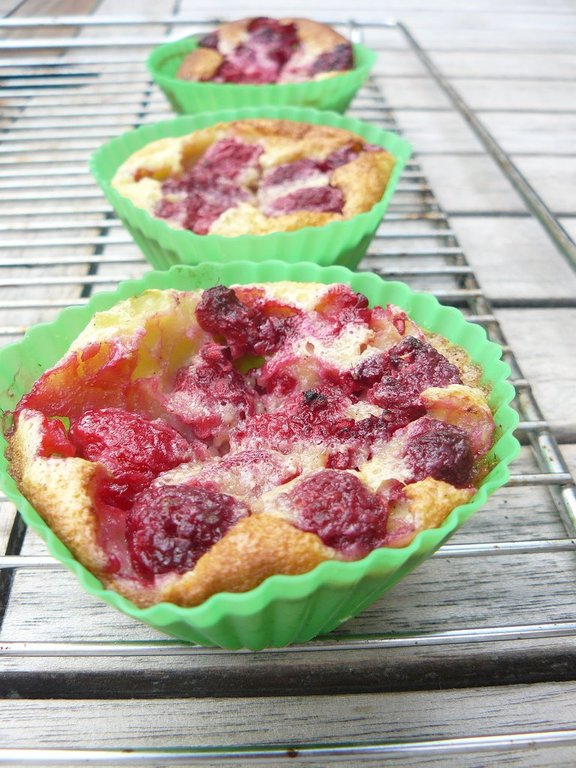 Clafoutis Aux Cerises – French Dark Cherry Pastry
Ingredients
8 oz. fresh cherries
1/2 cup of sugar
1/2 cup all-purpose flour
3 eggs
1/2 vanilla bean
300 ml of milk
1 tbsp of brandy
icing sugar
a pinch of salt
butter for greasing the pan
Instructions
Preheat the oven to 350F degrees and grease a round baking pan.
Beat the egg whites with a pinch of salt until get firm peaks… add the yolks, sugar and vanilla seeds (splitting the vanilla pod in half lengthwise with a sharp knife and scraping seeds from pod) and continue beating until the mixture is bubbly and homogeneous.
Then add the flour and trickle the milk slowly … do not stop beating it!
Finally add the brandy.
Place the washed and cleaned fresh cherries (with their pits) into a round baking pan and, carefully, pour the mixture onto them.
Bake (350F degrees) for about 30 min.
Dust the clafoutis with icing sugar and serve warm.
Notes
To make them as pictured, divide cherries into cupcake wrappers, and divide the batter. The baking time will be shorter as well (15-18 minutes).
https://stlcooks.com/clafoutis-aux-cerises-french-dark-cherry-pastry/
Recipe and Photo: French Desserts / CC BY