Jump to recipe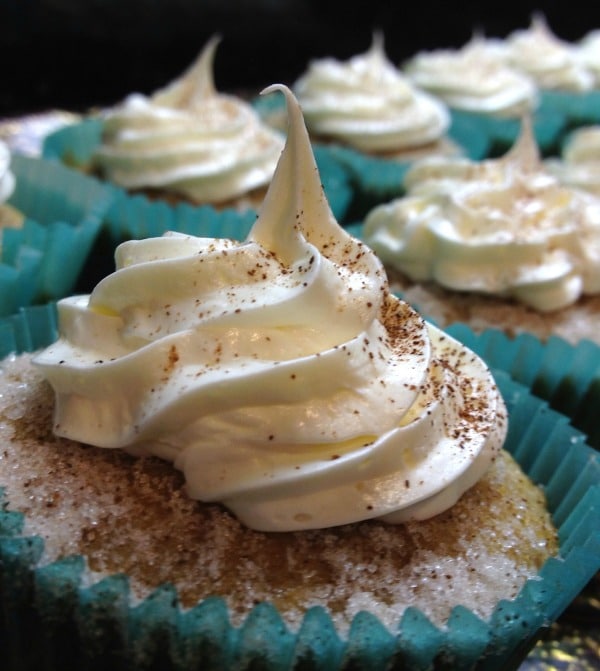 Ingredients
Cinnamon Churro Cupcakes
1 1/2 cup of flour
1 1/2 tsp cinnamon
1 1/2 tsp baking powder
1/2 tsp salt
1/2 cup of softened butter
3/4 cup of white sugar
1/4 cup of brown sugar
2 egg
1/4 cup of canola oil
1/2 cup milk
2 tsps vanilla extract
Cupcake Topping
1 package cream cheese frosting (you can also make your own)
1/2 cup white sugar
1 tsp cinnamon
Instructions
Preheat oven to 350 degrees. Fill muffin tin with cupcake cups. Set aside.
In a medium bowl, combine flour, cinnamon, baking powder and salt. Set aside.
In a large bowl, cream butter and sugars together until light and fluffy. Add eggs, one at a time, until just combined then stir in vanilla and oil. Sprinkle 1/3 of the flour mixture over the butter mixture and gently stir until barely combined. Add milk, mixing until till smooth batter. Add remaining flower and mix till combined, but do NOT over mix.
Fill each cupcake tin half way. Bake for 14 to 16 minutes.
While cupcakes are cooking, combine topping (sugar and cinnamon) in a shallow bowl. When cupcakes are cooked, remove from oven and let cool for just a few minutes. Before cupcakes cool too much, remove from tin and turn upside down onto cinnamon/sugar topping. Next, allow cupcakes to cool completely and then pipe some frosting and give a little finishing touch of cinnamon.
Recipe and Photo: 10 Buck Dinners / CC BY-SA