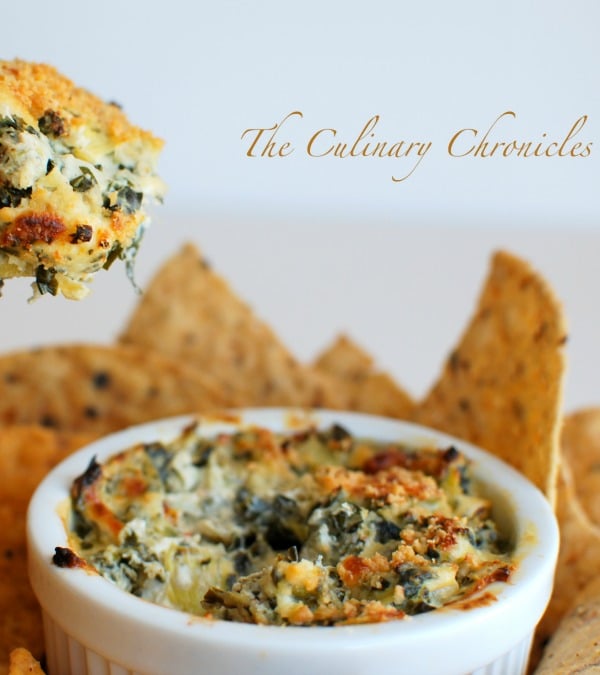 Mediterranean Spinach Artichoke Dip
Ingredients
10 Ounces Frozen Chopped Spinach, thawed and drained
8 Ounces Artichoke Hearts, finely chopped
5 Ounces Neufchatel Cheese, softened
½ Cup Plain Nonfat Greek Yogurt, at room temperature
½ Cup Low Fat (or reduced fat) Monterey Jack Cheese, shredded
2 Tablespoons Parmesan Cheese, finely grated
¼ Cup Chopped Sun Dried Tomatoes (preserved in olive oil)
¼ Cup Shallots, finely chopped
2 Whole Garlic Cloves, finely minced
¼ Teaspoon Dried Thyme
¼ Teaspoon Paprika
1 Tablespoon Oil from the Sun Dried Tomatoes
Kosher Salt and Pepper to taste
Cooking spray
---
Instructions
Preheat oven to 350 degrees.
In a large skillet, heat the oil from the sun dried tomatoes. Add shallots and cook until translucent. Add garlic and cook for an additional minute. Add sun dried tomatoes, artichoke hearts, and dried thyme. Stir and cook for 2-3 minutes before adding the spinach. Cook for an additional few minutes and then transfer all items into a large bowl.
Add Neufchatel, Greek Yogurt, Monterey Jack Cheese and paprika to the spinach mixture. Season with salt and pepper. Combine well. Lightly cover ramekins or other baking dishes with cooking spray. Spoon spinach mixture into the dishes and sprinkle the tops with Parmesan Cheese.
Bake for 20-25 minutes and then turn the broiler on. Broil the tops until they are golden brown. Serve with chips, bread slices, crackers, or vegetable sticks.
Notes
If for some reason you can not find Neufchatel Cheese, you can substitute cream cheese.Just prepare for your dip to be more dense if you use the full amount.
https://stlcooks.com/mediterranean-spinach-artichoke-dip/