Jump to recipe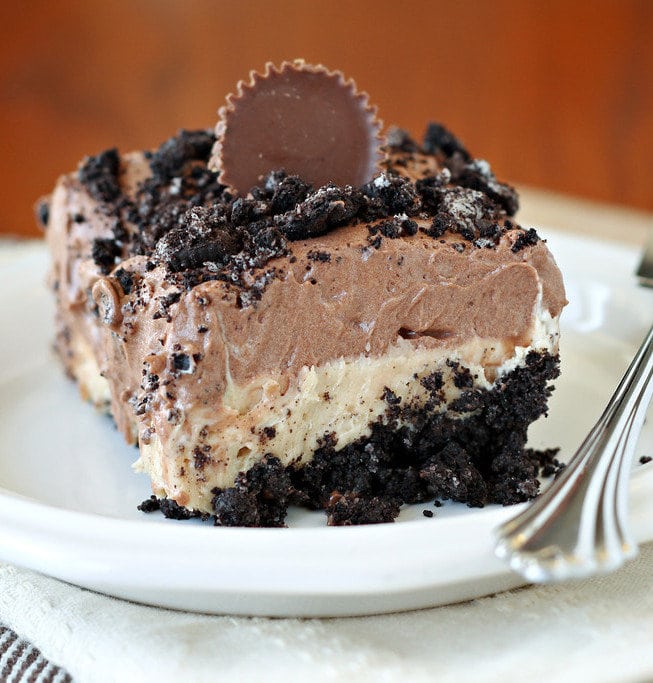 We are coming to the end of 2013. With that in mind, we are going to share the recipes that we posted over the year that got the most love. We will feature one recipe each day, and count them down. Which recipe came in at number one? Hit our site up on January 1st for the answer to that question (But don't ignore the rest of the list…as this is the best of our best for this year!).
Chocolate Peanut Butter No-Bake Dessert

Ingredients
20 Oreo cookies, divided
2 tablespoons butter, softened
1 package (8 oz.) cream cheese, softened
1/2 cup peanut butter
1-1/2 cups confectioners' sugar, divided
1 carton (16 ounces) frozen whipped topping, thawed, divided
15-20 miniature peanut butter cups, chopped
1 cup cold milk
1 package instant chocolate pudding
Instructions
Crush 16 cookies; toss with the butter. Press into an ungreased 9-inch square dish; set aside. In a large bowl, beat the cream cheese, peanut butter and 1 cup confectioners' sugar until smooth. Fold in half of the whipped topping. Spread over crust. Sprinkle with chopped peanut butter cups. In another large bowl, beat the milk, pudding mix and remaining confectioners' sugar on low speed for 2 minutes Let stand for 2 minutes or until soft-set. Fold in remaining whipped topping. Spread over peanut butter cups. Crush remaining cookies; sprinkle over the top. Cover and chill for at least 3 hours.
Recipe and Photo: Foodista / CC BY