Jump to recipe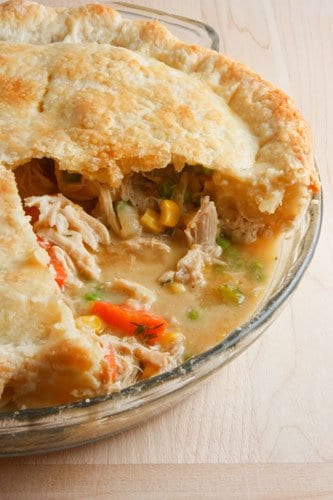 Chicken Pot Pie

Ingredients
1 whole chicken, cut into pieces
4 bacon slices, cut into 1 inch squares
2 onions, quartered
¼ cup white wine
1 cup chicken broth
½ cup chopped celery
½ cup chopped carrots
1 cup button mushrooms
salt and pepper
8 small rosemary sprigs
1 pre-made pie dough
1 egg, beaten
Instructions
Sauté bacon in a pot, then add the chicken pieces and saute until the edges start to brown.
Add onions and continue cooking for 2 minutes.
Add the wine to deglaze.
Let it reduce for 3 – 4 minutes, then add the chicken broth.
Bring to a boil, then cover and let it simmer gently over low heat for one hour.
Add the celery, carrots, and mushrooms.
Stir, then cover and let it simmer for 20 minutes more, adding more liquid if necessary.
Finally, add the rosemary, and season with salt and pepper.
Remove from heat.
Preheat oven to 400°F.
Cover the pot surface with the pie dough.
Brush with the eggwash, then bake in the oven for about 12 – 15 minutes, until the surface has browned and the dough has cooked.
Recipe: recipes.wikia.com / CC BY-SA