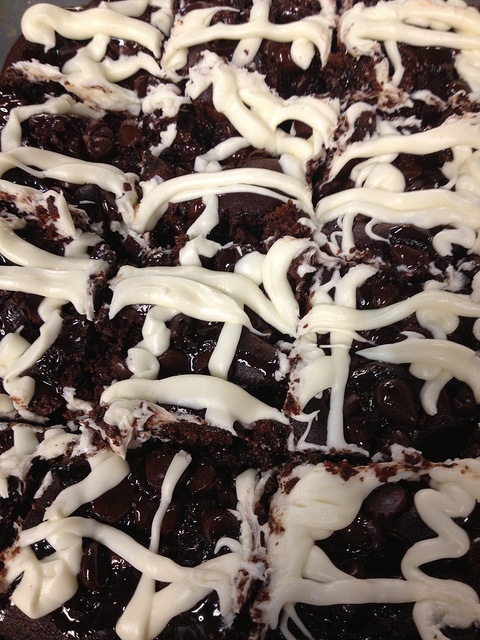 Recipe: Chocolate Chip Caramel Poke Cake
Ingredients
1 box devil's food cake mix
1 1/3 cups buttermilk
1/2 cup vegetable oil
3 eggs
1 12 oz bag semisweet chocolate chips
1 small jar caramel topping
1/2 cup vanilla frosting (or just wing it)
Instructions
Heat oven to 350 degrees. Spray bottom only of 13×9-inch pan with baking spray.
In large bowl, beat cake mix, buttermilk, oil and eggs with electric mixer until well mixed. Pour into pan. Cover with chocolate chips and gently press into the batter. Don't worry too much if they are hanging out a bit on top.
Bake 35 to 43 minutes or until toothpick inserted in center comes out clean. Cool 30 minutes.
Spray fork with cooking spray (not totally necessary, just helpful unless you want to eat the chocolate cake bits off the fork after. Yeah, the cake pulls up a bit without spraying but it's not going to be a pretty cake anyway, it will be a delicious chocolate mess). Stab the still warm cake all over with fork.
Pour caramel topping over cake. Cool completely, about 1 hour.
In medium microwavable bowl, microwave frosting 15 to 30 seconds and stir so it is soft and a little on the runny side. Spoon frosting into a ziplock bag. Cut tip off 1 corner of bag. Drizzle frosting across top of cake.
To cut, you definitely want to use a knife dipped in warm water to make your life easier. But again, this is a messy delicious cake, so I recommend just spooning it out onto plates or into bowls and nomming.
Recipe and Photo Courtesy of eye-shuh on flickr.com / CC BY-SA