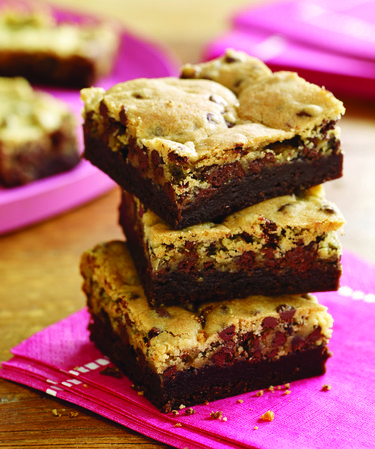 Bring the Latest Trend to the Bake Sale
Back-to-school season marks the start of the most delicious extracurricular activity: bake sales. This year, there's a new treat in town – and it's a creative combination of two bake sale favorites. Half vanilla-rich chocolate chip cookie, half cool peppermint brownie, the Choco-Mint Crownie satisfies two cravings at once.
"Adding a simple flavor twist to this cookie-brownie hybrid is really what makes it so unique," said Mary Beth Harrington of the McCormick Kitchens. "Just add a splash of peppermint to your brownie batter, pour the batter into a pan, place chocolate chip cookie dough on top and bake."
Take your crownies to the top of the class with more simple, tasty variations on a boxed brownie mix:
* Orange Kissed Crownies: Give brownie batter a hint of citrus by adding 1 tablespoon Pure Orange Extract to the batter.
* Almond Crownies: For a nutty flavor, replace the orange extract with 1/2 teaspoon Pure Almond Extract in the batter.
* Raspberry Crownies: For a rich fruity flavor, add 4 teaspoons Raspberry Extract to the batter.
To get inspired by even more delicious baking ideas year-round, visit www.mccormick.com, www.facebook.com/McCormickSpice, or www.pinterest.com/mccormickspices.
Choco-Mint Crownies
Prep Time: 20 minutes
Cook Time: 20 minutes
1 1/4 cups flour
1/2 teaspoon baking soda
1/4 teaspoon salt
1/2 cup (1 stick) butter, softened
1/2 cup granulated sugar
1/2 cup firmly packed light brown sugar
1 egg
3 teaspoons McCormick(r) Pure Vanilla Extract, divided
1 package (12 ounces) miniature chocolate chips (2 cups)
1 package (family-size) fudge brownie mix
1/2 teaspoon McCormick(r) Pure Peppermint Extract
1. Mix flour, baking soda and salt in medium bowl. Set aside. Beat butter and sugars in large bowl with electric mixer on medium speed until light and fluffy. Add egg and 2 teaspoons of the vanilla; mix well. Gradually beat in flour mixture on low speed until well mixed. Stir in chocolate chips. Set aside.
2. Prepare brownie mix as directed on package, adding remaining 1 teaspoon vanilla and peppermint extract.
3. Pour brownie batter into greased a 13×9 pan. Bake in preheated 350°F oven 15 minutes.
4. Drop cookie dough by the tablespoonful on brownie, covering the top evenly. (Batter will spread during baking.) Bake additional 20 to 25 minutes or until cookie top is golden brown. Cool completely in pan on wire rack.
#11655_AR
Source: McCormick