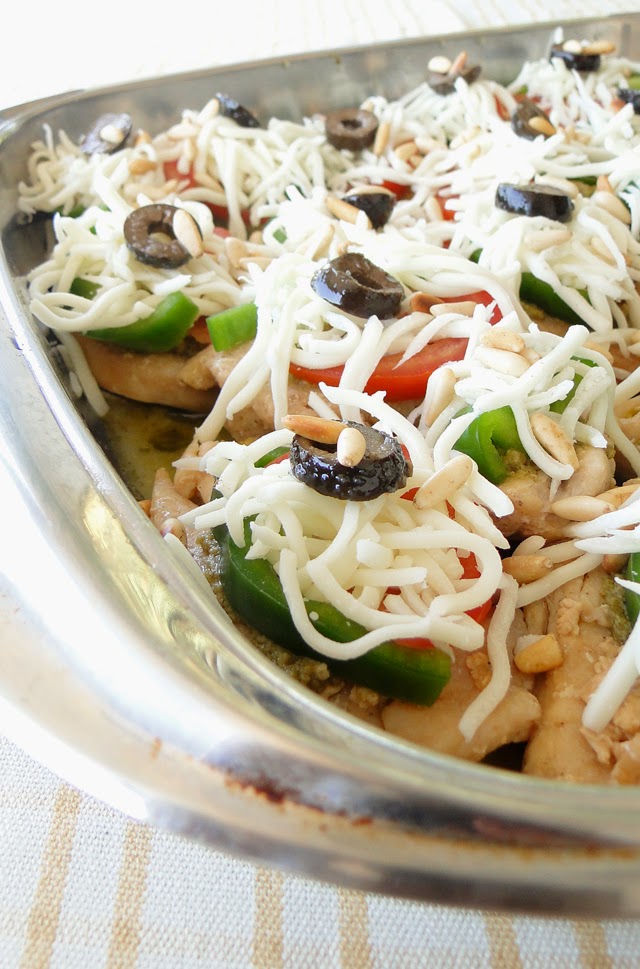 Chicken with Cheese and Pesto
Ingredients
4 chicken filets
3 tbsp olive oil
salt and pepper
pitted and chopped olives
1 tomato sliced
1 pepper sliced
1 cup shredded cheese

Pesto sauce:

1 cup fresh basil leaves
2 garlic cloves
3 tbsp olive oil
pinch of salt
2 tbsp pine nuts
Instructions
Make small cuts in the chicken filets, season them with salt and pepper. Heat the olive oil in a pan and brown the chicken fillets on both sides. Place in a baking dish.
Prepare the pesto sauce: In a food processor, mix all the ingredients until you have a smooth sauce.
Spread the sauce on top of the chicken fillets. Place the tomato slices on top, then the pepper slices. Sprinkle the shredded cheese on top.
Place in a preheated oven at 180ºC (350ºF) 10 to 15 mn or until cheese is melted.
Serve with fries, rice or pasta.
https://stlcooks.com/chicken-with-cheese-and-pesto/
Recipe and Photo: Chicho's Kitchen / CC BY