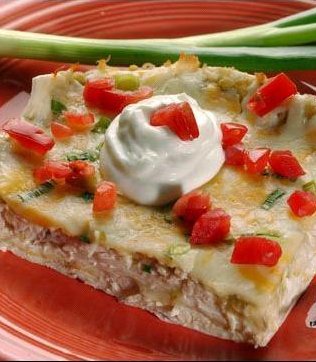 Chicken Verde Enchilada Casserole
Ingredients
4 Large Boneless Skinless Chicken Breasts
Lawry's Garlic Salt and Pepper, to taste
2 tablespoons Olive Oil
6 ounces Shredded Cheddar Cheese
6 ounces Shredded Mozzarella Cheese
19 ounces La Victoria Chile Verde Enchilada Sauce
12 Corn Tortillas
Sour Cream
Guacamole
Tomatoes, chopped
Green Onions, chopped
Instructions
Preheat oven to 350 degrees.
In a large skillet, heat olive oil.
Sprinkle both sides of chicken breasts with seasoning to taste.
Brown chicken in olive oil. Cook 10 minutes. (chicken will cook more later)
Cut/Shred cooked chicken into small pieces, set aside in small bowl.
Combine shredded cheeses into a small bowl, set aside.
Empty enchilada sauce into large bowl, set aside.
Wrap tortillas in a moist paper towel and microwave for 1 minute to steam.
Dip one warm corn tortilla into the enchilada sauce, coat both sides.
Cover the bottom of a 13 x 9 baking dish with dipped tortillas (approx 4).
Layer in the shredded/diced chicken on top of the tortillas.
Layer in the cheeses on top of the chicken.
Repeat layering dipped tortillas, chicken and cheese until baking dish is full.
Finish with a layer of dipped tortillas topped with a layer of cheese.
Bake at 350 degrees for 30-40 minutes or until cheese is melted.
Top with your choice of sour cream, guacamole, diced tomatoes and/or chopped green onions.
https://stlcooks.com/chicken-verde-enchilada-casserole/
Recipe and Photo: Foodista: CC BY