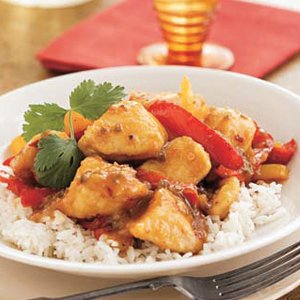 Ingredients
4 tablespoons vegetable oil, divided
8 chicken breast halves, skinned and boned
1 cup uncooked rice
6 green onions (green and white parts chopped separately)
1 clove garlic, minced
1 teaspoon salt
2 cups chicken broth
4 chiles serranos, separated
1 large tomato, peeled and diced
¾ cup cilantro leaves, coarsely chopped
Juice of 1 lime
---
Instructions
Heat 2 tablespoons oil in large skillet over medium heat until hot. Add chicken; cook until light brown on both sides. Remove chicken; set aside.
To same skillet add rice; cook and stir about 3 minutes or until rice is lightly browned. Add white part of the onions and garlic; cook 1 minute.
Add salt and broth. Bring to a boil; stir once or twice. Reduce heat.
Arrange chicken on top of rice and insert 3 whole* serranos randomly into rice. Cover and simmer 15 minutes, or until rice is tender and liquid is absorbed.
Heat remaining 2 tablespoons oil in small skillet until hot.
Add green part of the onions and cook over medium heat 1 minute.
Add tomato and the remaining serranos, finely chopped; cook 1 minute.
Stir in cilantro and cook 1 minute longer. Remove from heat and add lime juice.
Add green onion mixture to rice and toss lightly.
Serve immediately with refried beans, if desired.
https://stlcooks.com/chicken-serrano/
Recipe and Photo: recipes.wikia.com / CC BY-SA