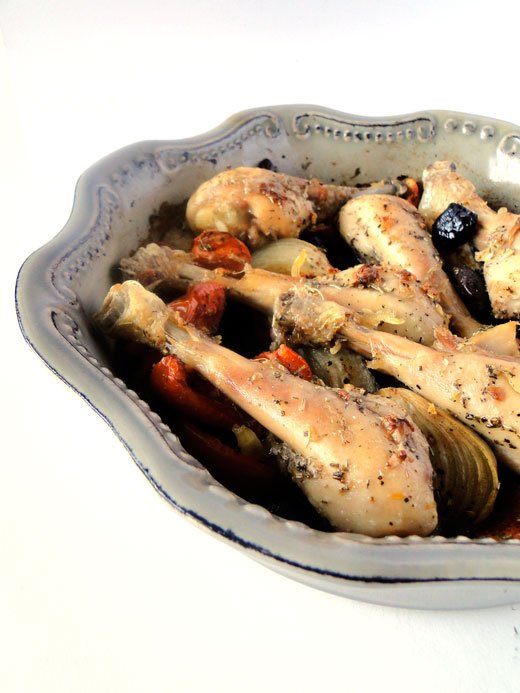 Ingredients
1 pound tomatoes (3 to 4 medium), cut into wedges
1 large onion, cut into wedges
1/2 cup drained black olives, pitted
4 large garlic cloves, sliced, plus 1 teaspoon minced
3 tablespoons olive oil, divided
2 teaspoons herbes de Provence, divided
1/2 teaspoon fennel seeds
1 chicken (about 3 1/2 pounds) cut into pieces or chicken thighs and drumsticks
Instructions
Preheat oven to 400°F (200ºC).
Toss together tomatoes, onion, olives, sliced garlic, 2 tbsp oil, 1 tsp herbes de Provence, fennel seeds, 1/2 tsp salt, and 1/4 tsp pepper in a baking dish. Push vegetables to sides of dish to make room for chicken.
Stir together minced garlic, 1 tsp salt, 1/2 tsp pepper, remaining tsp herbes de Provence, and remaining tbsp olive oil.
Remove excess fat from chicken pieces and pat dry, then rub with seasoning mixture. Put chicken pieces in baking dish.
Roast about one hour. Serve.
https://stlcooks.com/chicken-provencal/
Recipe and Photo: Chicho's Kitchen / CC BY