Jump to recipe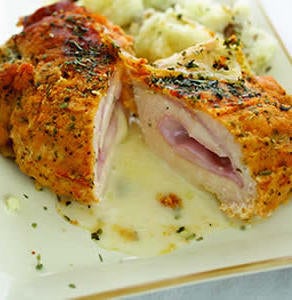 Ingredients
1 package PERDUE® FIT & EASY® Boneless, Skinless Chicken Breasts
6 thin slices of salt-cured Virginia-smoked ham
3 slices domestic Swiss cheese
1 whole egg
1/4 cup water
1/4 cup flour
1 cup breadcrumbs
1/2 teaspoon kosher salt
1/2 tablespoon table ground black pepper
1 tablespoon olive oil
Instructions
Slice chicken horizontally without cutting all the way through to create butterfly breast.
Place chicken on cutting board with sheet of plastic wrap over top. With meat mallet, gently pound chicken to even thickness of breast. Place two slices ham and cheese on one side of breast and fold back over.
In bowl, whip together egg and water to create egg-wash.
On two separate plates, put flour and breadcrumbs. Season flour with salt and black pepper.
Carefully dredge chicken first into seasoned flour, then into egg-wash, followed by breadcrumbs.
Heat olive oil in ovenproof sauté pan. Place chicken in pan to brown. Cook for 2 minutes on one side, then flip each breast over. Place pan into oven at 350°F and cook until each chicken breast reaches 170°F internal temperature, about 20-25 minutes.
Recipe and Photo courtesy of Purdue Chicken