Jump to recipe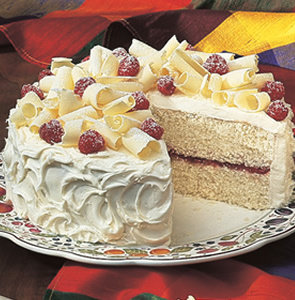 Ingredients
1 package (18.25 ounces) White Cake Mix
3 egg whites
1-1/3 cups water
2 tablespoons vegetable oil
5 white chocolate baking squares, (1 ounce each)
1 container (16 ounces) Creamy Vanilla Frosting
1/2 cup red raspberry seedless jam
Fresh or frozen whole red raspberries
White chocolate curls (optional)
Confectioners' sugar
Instructions
Heat oven to 350°F. Grease and flour two 9-inch round baking pans.
Combine cake mix, egg whites, water and oil in large mixing bowl. Beat at low speed with electric mixer until moistened. Beat at medium speed 2 minutes.
Place 3 white chocolate squares in microwave-safe bowl. Microwave on high (100% power) 2 to 3 minutes or until chocolate melts, stirring after 1 minute. Stir warm, melted chocolate into cake batter. Pour into pans.
Bake 25 to 28 minutes in 350°F oven or until wooden pick inserted in center comes out clean. Cool 15 minutes. Remove from pans. Cool completely.
Meanwhile, melt 2 white chocolate squares; stir warm, melted chocolate into frosting. Place one cake layer on serving plate; spread raspberry jam over top of cake. Place second layer on top. Frost top and sides of cake with white chocolate frosting. Garnish with raspberries and white chocolate curls, if desired. Sprinkle with confectioners' sugar.
For more great recipes and tips visit Duncan Hines
Recipe and Photo Courtesy of Duncan Hines