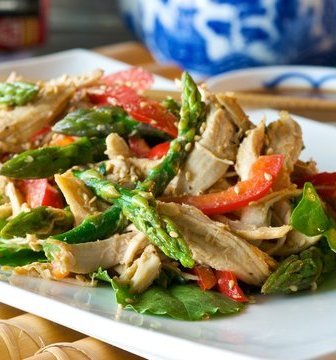 Chicken and Asparagus Salad
Ingredients
2 cups cooked rice, cooled
1½ cups diced cooked chicken
½ cup thinly sliced celery
1 x 10½-ounce can green asparagus, drained
½ teaspoon salt
¼ teaspoon ground black pepper
¾ cup mayonnaise
½ teaspoon curry powder
6 whole large tomatoes
Instructions
Measure rice, chicken, celery and asparagus into bowl. Season with pepper and salt.
Stir in mayonnaise mixed with curry. Chill.
Turn tomatoes, stem end down. Cut each one, not quite through to the stem end, into 6 equal sections. Spread sections apart.
Season lightly with salt and pepper and fill with rice mixture.
Serve on crisp greens, if desired.
https://stlcooks.com/chicken-and-asparagus-salad/
Recipe and Photo: recipes.wikia.com / CC BY-SA