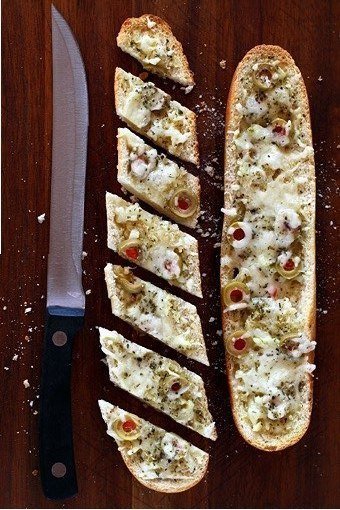 Ingredients
3 Tablespoons of Mayonnaise
1/2 Teaspoon Garlic Powder
8 oz Mozzarella Cheese, Crumbled
2 Tablespoons Spanish Olives
1 Loaf of French Bread, cut length wise, in half
Instructions
Make your way over to the oven and set in on broil. Next, mix all ingredients together and spread on bread. Now, broil 6 inches from heat for 1-2 minutes or until cheese is nice and melted.
You may also add chopped mushrooms, finely chopped ham or turkey. You can make this anyway you like.
Notes
Don't forget to add moisture! In this recipe we call for mayonnaise, but you can use butter, or get creative and use your favorite salad dressing!
https://stlcooks.com/cheesy-appetizer-loaf/
Recipe and Photo: Kim Santilli / CC BY