Jump to recipe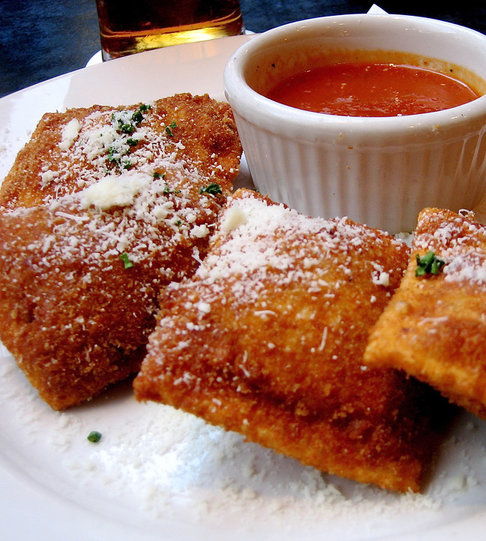 Charlie Gittos Toasted Ravioli

Ingredients
Dough:
3 1/2 cups flour
3 eggs
3 tablespoons salad oil
1/2 cup water
1/2 teaspoon salt
Meat filling:
1/2 pound beef, cubed
1/2 pound veal, cubed
1/2 cup chopped onions
1/2 cup chopped celery
1/2 cup chopped carrots
Salt and pepper
1 1/2 cups cooked, chopped spinach
4 eggs
1 cup grated Parmesan
4 eggs, beaten
2 cups milk
4 cups seasoned bread crumbs
Grated Parmesan, for garnish
Tomato sauce, for serving
Instructions
For the dough: In a large mixing bowl, add all of the ingredients, and mix until the ingredients come together to form a dough. Turn the dough out onto a floured surface, and knead until smooth and elastic, about 10 to 15 minutes. Wrap in plastic wrap and set aside.
Preheat the oven to 350 degrees F.
For the meat filling: combine the beef, veal, onion, celery, carrots, salt, and pepper in a roasting pan and roast until cooked through, about 1 hour. Let cool.
Add the spinach, then grind ingredients in a meat grinder with a fine grind. Add the eggs and cheese, and mix well, to create a paste-like texture.
Roll out the dough on a floured surface using a rolling pin. Make a large, very thin layer of dough. Spread out a thin layer of filling on half of one side of the dough, using a spatula. Fold the dough end over the filling side of the dough. Mark the filled dough with a ravioli marker (ravioli rolling pin). Cut ravioli out using a ravioli cutter. Freeze until hard.
To bread the ravioli: Make an egg wash by mixing together the eggs and the milk. Add the ravioli to the wash, then dip in the seasoned bread crumbs. Refreeze until ready to fry.
Preheat a deep fryer to 350 degrees F.
Fry the ravioli until golden brown. Serve hot on a plate sprinkled with freshly grated Parmesan on top and tomato sauce on the side.
Photo Courtesy of dyobmit on flickr / CC BY